Your Co-op Rewards
We're giving you exclusive priority access to our new app, Your Co-op Rewards.
It's all about thanking you, with rewards, for choosing to shop with us and for being a valued colleague member.
Tap in to enjoy these exciting features: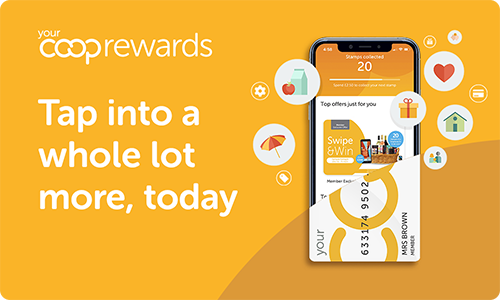 Instant Rewards
Fantastic colleague-only deals right to your phone

Colleague-only exclusive prize draws, including daily winners.
Treats to Save For
Earn every day, with one stamp for every £10 you spend on food and utilities

Redeem your stamps on Your Co-op Travel bookings.
It's Easy For You
Your digital membership card is always on hand for exclusive colleague discounts

A convenient way to manage your membership

More exciting membership features coming soon.
Making the most of your app
Here are a few easy pointers to help you make the most out of the new app and your rewards:
To sign in, you'll need your membership number or registered email address, plus your password

If you don't know them or need some help, click on the 'Unsure of your login details' on the app home page - you'll just need your membership number handy

If you still need support, the Membership team are ready to help. Email them at member.communications@midcounties.coop

Check the app for new rewards and updates every day – especially for our daily prize draws

Find out more about the app below, including FAQs & how to download it.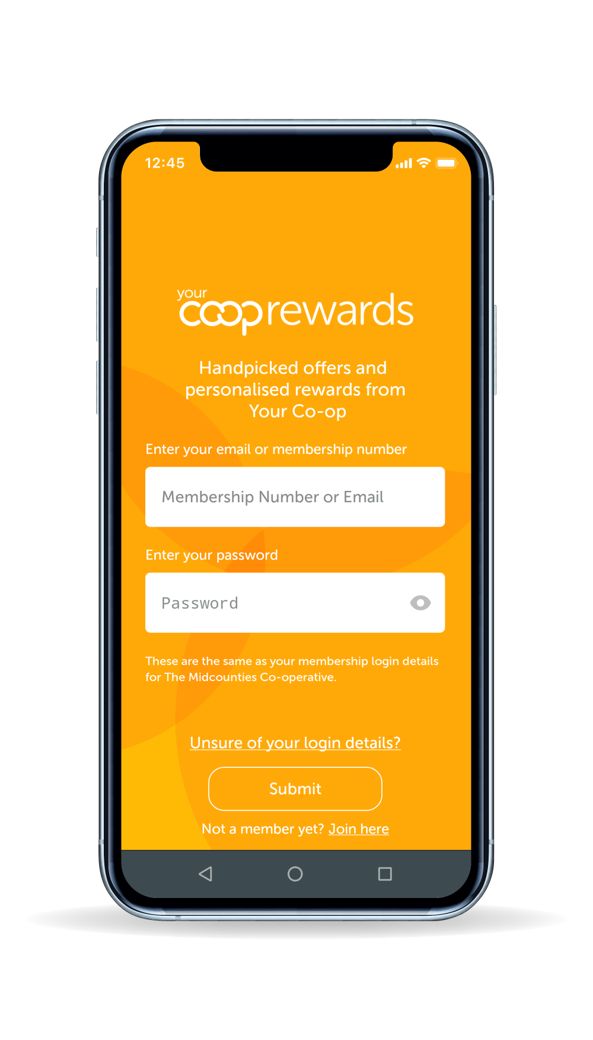 You'll find more information below. But first, search 'Your Co-op Rewards' on your app store to download it today. Happy tapping!
Frequently Asked Questions
1. How do I download the app?
To download the app you can either search for 'Your Co-op Rewards' in your App store or use the QR code to be taken directly to your app store.
2. How do I sign into the app?
To sign into the app you need to have your email address or membership number and password. This is the email address you use for your membership.

If you are unsure on these details or have forgotten your password, you can use the 'Unsure of your login details' link on the app home page. From here you will need to input your membership number and your postcode. You can find your membership number on your membership card.

If you don't know or can't find your membership number you can contact the membership team at member.communications@midcounties.coop
3. Why is the app being launched to Colleagues first?
We want you as Colleague Members to have priority access to the app and begin exploring it, understanding how it works and taking advantage of the offers we have available to you. You will have access to Colleague only offers, prize draw and can start saving your stamps for some of our great travel and food rewards.
4. What are stamps?
You will earn 1 stamp for every £10 spent in Food and Utilities. You can then save these stamps and redeem them on some great travel rewards.

This doesn't affect your Share of the Profit points, you will still earn this as normal.
5. What's included on the app?
On the app you can find exclusive colleague only offers, prize draws and rewards. Your membership card is also on the app, so you can always have it to hand and use it to earn more stamps. In March, we will also be releasing Share of the Profits through the Your Co-op Rewards app.
6. I have a question about the prize draw
The prize draw is running from 2nd March-14th March 2021 and you will be automatically entered once you have downloaded and signed into the app. The earlier you download, the more chances you have at winning.

The terms and conditions can be found by clicking on the offer on the app.

If you still have questions, you can contact the Communications team at Communications@midcounties.coop
7. Who can I contact if I have a problem?
Supporting Documents to Brief Your Teams
Click on the links below to find out more about the launch of Your Co-op Rewards:
Download the app today...