Apprenticeship Programme
We are passionate about helping people develop in their careers. This includes upskilling colleagues through our apprenticeship programme.
We have apprentices at all levels in all areas of our business, from managers in our food stores, to trainee travel agents in our co-op travel stores. Our apprenticeship programmes are open anyone over the age of 16 whether you are looking to start your career or looking to develop within your existing role with us.
Our apprenticeships are designed as a stepping stone to help you upskill ready for your next role.
Interested in finding out more?
Our existing apprenticeship vacancies are advertised through our recruitment site. If you already work for us, speak to your manager and ask them about future apprenticeship opportunities.
Questions?
If you wish to find out more about apprenticeships at Midcounties Co-operative, email apprenticeships@midcounties.coop and we will be happy to help.
If you would like to request an apprenticeship qualification for an existing colleague, then please complete this form.
Apprentice Profile - Claire France
Claire France is a Branch Manager at Cooperative Travel in Kingswinsford
Claire joined the Cooperative Travel branch in Wednesfield shortly after leaving school in July 2002. Her first role was Trainee Travel Adviser where she began to assist and advise customers with their requirements and queries. As part of this, she completed a level 2 Apprenticeship in Travel and Tourism. She followed that by completing a level 3 Apprenticeship also in Travel and Tourism. Here Claire tells us about her career to date and the way in which Apprenticeships and other learning have supported her in this journey.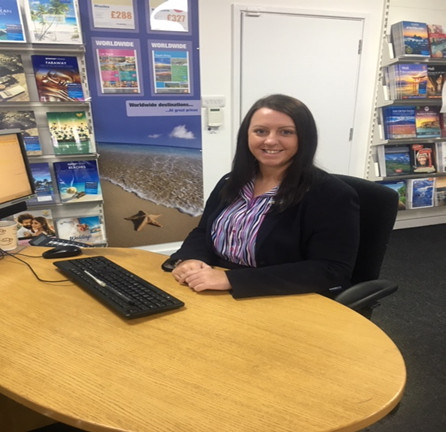 How did an Apprenticeship support you in your new role?
Completing the Level 2 Apprenticeship assisted me in the move from a school environment to full-time employment. The Apprenticeship gave me knowledge of the travel sector as a whole, and skills in customer services and our products in particular. Most importantly the work experience gave me increased confidence.
Has this helped your career development?
On completion of this Apprenticeship, I was promoted to become a Travel advisor and continued to learn by completing a Level 3 Apprenticeship in Travel & Tourism. In 2006 I moved to the Bilston Branch for another promotion to Senior Travel Advisor and I spent 2 years at this branch before moving back to Wednesfield.
Through attending training and via e-learning I have been given a broad understanding of the Travel industry and Foreign Exchange and in 2011 I completed a Certificate in Management. Having identified an ambition to become a branch manager I was given the post of Assistant Branch Manager at Wednesfield in April 2016. Since then I successfully applied for a further promotion and I am now working as Branch Manager in Kingswinford.
Apprentice Profile - James Eales
James Eales joined the Membership team as an Apprentice Member Benefits Administrator in 2018. He is based at Cooperative House in Warwick where he is part of a small team responsible for handling calls and requests from our members. These can range from simple requests to sign up for membership or request a card to more sensitive including helping our members following the death of a spouse and explain the rewards available.
James was keen to learn and with his manager decided to complete a Level 2 Apprenticeship in Customer service with Walsall College. James has answered a few questions about his experience to date with the Society: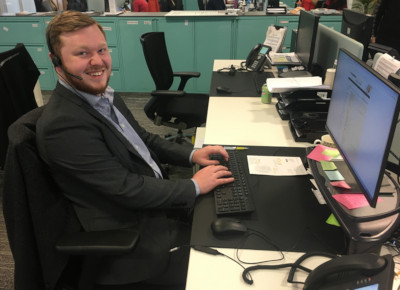 James Eales, Apprentice Member Benefits Administrator, Memberships Team
Why did you join Midcounties Cooperative?
This was a good entry level for me to start with the Society. I decided the apprenticeship would be good for me as I can learn on the job and apply my learning to day to day tasks presented to me. Doing an apprenticeship also allows me to build professional relationships which will help me in the future as I develop within the Society.
What opportunities has the Apprenticeship provided you?
There have been several opportunities including working in different sectors such as Energy, Travel, Childcare and Customer service to complete job swaps and shadowing. I have also spent time in our Bourton on the Water Food store to experience face to face customer service with our customers and members. An unusual opportunity was to attend a funeral as a team member. These experiences have taught me about the Society and the particular demands for roles like mine.I am also learning how to build reports for colleagues or departments which require them. This will allows me to take on wider responsibilities.
What are your future plans?
After completing my apprenticeship, I would like to remain in the membership department and use my newly found knowledge and skills to help to develop the services we offer our members. In the future I will look to progress in my job role and start applying for internal opportunities.
We also spoke to James's manager, Lee Franklin, who commented
James is young, enthusiastic and has brought a positive attitude to the team, developing our expectations of his role. He is learning to deal with challenging queries and situations. James brings new ideas to the team and will explore ideas from those other parts of the Society where he has spent time and explore how these can continue to improve our service to our members and customers. He has learnt from colleagues whilst also gaining qualifications from his college, we hope this will bring new ideas to the team and improve its performance.
How can you and our wider communities benefit from Apprenticeships?
If you are interested in completing an Apprenticeship please speak to your line manager who will direct your query to the local Learning and Development Managers.
Apprenticeships are available in a wide range of sectors and if a family member or friend is interested in finding out more they should take a look the Government website here.
Apprentice Profile - Sarah Townsend
Sarah Townsend is an Area Manager at Cooperative Funeralcare in the South Midlands.
In September 1999 she joined Midcounties Funeralcare in Swindon.
She began her career as a Driver / Bearer and has worked progressed through roles including Funeral Co-ordinator, Funeral Arranger and then Funeral Director: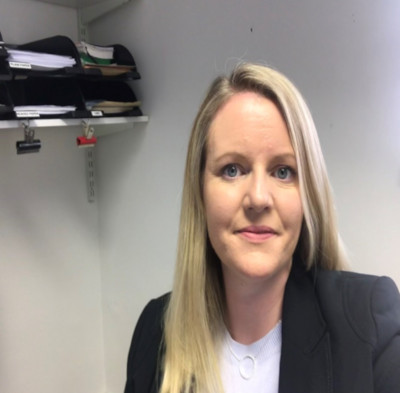 In 2018 I became an Area Manager, with responsibility for seven branches In Midcounties Cooperative Funeralcare. These branches include three Swindon branches, Cirencester, Grove, Highworth and Faringdon. This is a responsible role and I felt that I needed to develop my skills to manage the branches particularly in Leadership areas covered that I hadn't experienced before.
Why did you decide to complete an Apprenticeship?
After six months in role I had the opportunity to embark on the level 3 Team Leader / Supervisor Apprenticeship programme. This Apprenticeship offers a way of building upon my existing knowledge and developing some of the skills required for my new role.
What skills has the Apprenticeship given you to date?
The programme is made up of three themes the first of which was Personal Effectiveness
Having completed this theme, I have already begun to improve my Personal Effectiveness. Using techniques of 360-degree appraisal, taught via the Apprenticeship, I identified my failure to delegate effectively. I have now begun to learn how to do this and manage my time better. This has already allowed me to focus on areas where I can add value and complete tasks in a more orderly, less stressful way.
I am now completing the second theme of my Apprenticeship - Interpersonal Excellence. This includes communication, building relationships and project management. I am working on 'Being a Leader' and looking at how the Society respects the cultural and ethical values of its staff and how my levels of authority and responsibility can make an impact on personal and team objectives.
Theme 3 is Operational Performance in which we will look at finance and Operational management. This will enable me to manage my area to be more efficient both in terms of productivity and financial performance.
Apprenticeships combine learning in the workplace with support from a Training Provider and I am given time for learning off job.
The final theme is Operational Performance where I will look at finance and Operational management.
We also spoke with Sarah's manager Jason Timms who said:
Since Sarah embarked on her Apprenticeship course, I have noticed an improvement in her confidence when making management decisions and delegating. I recently attended a meeting with Sarah and her tutor and was impressed with the range of subjects in the programme. As Sarah positively embraces her apprenticeship journey, I believe she will continue to gain valuable skills which will help her expand her knowledge helping her become more proficient.
Apprentice Profile - Ravina Kaur
Ravina Kaur is a Senior Travel Adviser in the Cooperative Travel store in Wednesfield. She joined the Society in 2000 as a Trainee Travel Adviser – a role which sees her use her love of travel to advise customers. In 2016 she began a level 3 Travel Consultant Apprenticeship which she successfully completed in 2018
Her love for travel started at the young age of 12 when she visited India on my first family holiday. It continues today and she loves the opportunities it gives her to learn new languages and do adventurous things. She enjoys the opportunity to combine work and learning with her love of travel.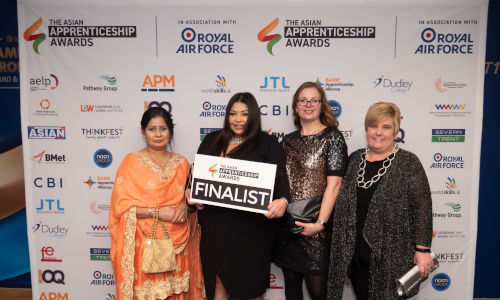 Why did you decide to complete an Apprenticeship as part of your role with the Society?
In 2016 I was encouraged by my manager to join the level 3 Travel Consultant apprenticeship scheme. We agreed that the apprenticeship scheme would benefit my progression at work and my education overall. She continued to encourage and support me throughout my apprenticeship journey. Looking back combining work experience with studying for my apprenticeship has given me invaluable knowledge as well as gaining new skills and qualifications. I completed my Apprenticeship on time despite having failed my maths qualification 4 times. The invaluable support from colleagues and the training provider were vital in this.
What opportunities has Completing the Apprenticeship given you?
I have had many opportunities as part of completing the Apprenticeship a highlight of which was being nominated for the Asian apprentice awards in 2018. From 500+ applicants for the Travel and Hospitality category I made it to the final 5. This remains one of the greatest achievements in my career - the whole experience was incredible as it was great to show the diversity of the Midcounities Cooperative Travel are as a group. In addition to my success Midcounties Cooperative won an Employer of the year award which was such a proud moment for us.
I have worked with secondary school students, to give an insight into what apprenticeships are about and to help them with their future career choices. This has also supported my personal growth and I feel I now have more of the skills required to apply for an assistance manager role.
I would now like to follow an Apprenticeship for a managerial role which would support my ambition to become a branch manager – a role for which I feel I have many of the skills required.
How has the Apprenticeship helped you in your role?
I have become more organised and self-confident. I am better able to manage my time at work and have the knowledge and skills to help my team. I am now more willing to face day to day challenges in my job role and so feel much happier at work.
A regular challenge I face is dealing with customer complaints ensuring that they are dealt in the right manner and to the correct procedure. One of my customer service units covered this area and procedures to handle them. I learnt a lot of new techniques that help to ensure we retain customers by effectively processing complaints and ensuring that they receive the best customer service possible.
I encourage anyone wanting to develop themselves to consider an apprenticeship. It's the best learning I have done for myself.