Change a life – Children in Need 2019!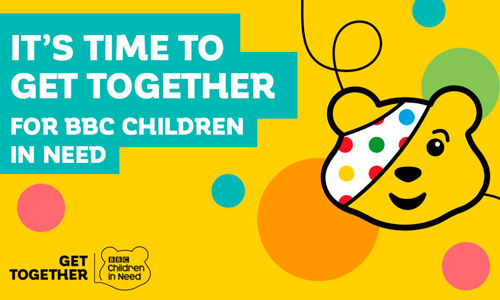 This article will take approximately 1 minute to read
Published 6 Nov 2019 in Colleagues
It's November and the annual BBC Children in Need appeal is nearly upon us so make sure you save the date in your diary! 15th November 2019.
The Society is happy for colleagues to get involved and support the campaign, through organising fundraising events at their sites. Click here for the resources.
What's happening this year?
Together we can make a difference
When people, passions and postcodes unite, great things happen. There are exclusive new fundraisers from your favourite BBC shows, it's never been easier to turn your fundraising into life-changing support.
What does your support go to?
Your donations and fundraising go towards helping thousands of children and changes lives for the better – Have a read of some of the incredible stories here.
How can you make a difference?
Have fun but be considerate and ensure the fundraising is appropriate to your working environment

Guess the numbers of sweets or guess the name (of a teddy/toy etc.) are all old favourites and easy to do

Get baking – encourage colleagues to bake sweet or savoury treats to then sell

Prize competitions (such as those above) and tombola's don't need licences and are a great way to raise funds

Raffles - please don't organise these as we don't have a licence as a Society for sites to do this
Paying in a donation
Please note: To ensure that the charity receives the money you have raised quickly, funds should be banked via any Bank, Building Society or Post Office, following the guidelines given by BBC Children in Need - Please DO NOT pay your fundraising into the society charity partner account using a PLU code or via your site cash statements. Further information on the ways to pay in can be found here.
Important - Donation total:
We want to be able to publicise the total amount raised for this fantastic cause – so don't forget to please let us know how much money has been raised at your site after the event by emailing communityteam@midcounties.coop by close of business on Wednesday 20th November.
Together we can make a difference!