Colleague Member Payday Event - November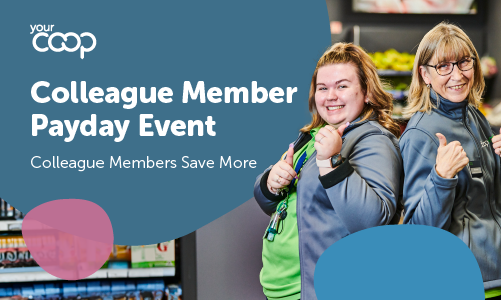 This article will take approximately 1 minute to read
Published 16 Nov 2023 in Colleagues
Colleagues, it's that time of the month – Payday! So why not do good together as you indulge in some shopping or plan a holiday with us? Don't forget, our colleague members save even more through our enhanced trading discounts.
Your Co-op Food – An extra 20% off our biggest ever money savings this Christmas
Save even more this festive season – from Bailey's to Brussels sprouts, cranberry sauce to mulled wine, we've got more than 80 of your Christmas favourites on offer, plus even more items on all day everyday low prices until the new year.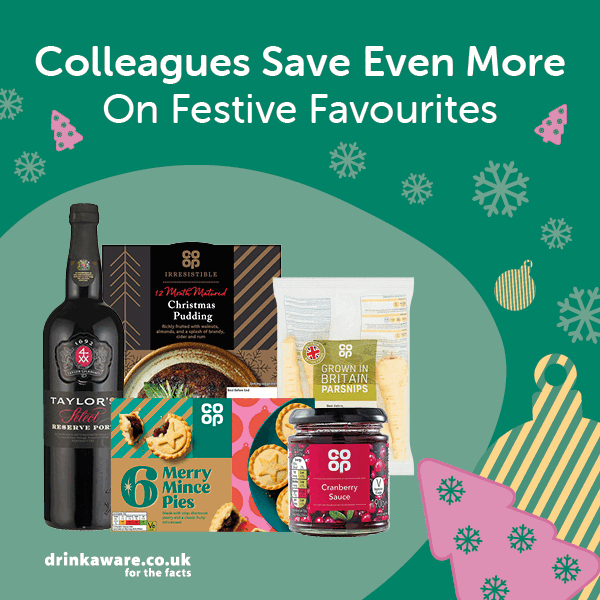 Plus, the Christmas sandwiches have now landed and are part of the lunchtime meal deal. So, pick up your lunchtime meal deal with your choice of festive filling: traditional turkey feast, Boxing Day breakfast, brie & cranberry, Gro vegan no turkey feast or pigs under blankets, and save even more with your colleague discount. Feel good festive food to go!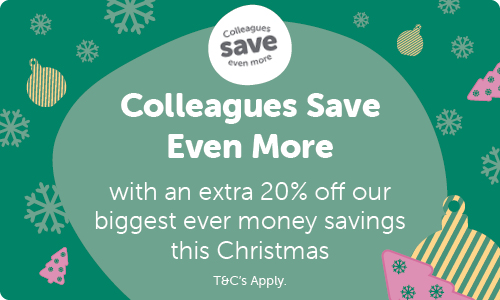 Co-op Holidays Takeover! ✈
This pay day, discover all there is to know about our fantastic in-house tour operator, Co-op Holidays. Watch their exciting video, exclusive to colleagues, to find out how Co-op Holidays can really book it all. Plus, discover all their amazing travel offers, from luxury beach escapes to city breaks, bucket-list tours to cruise & stays. Don't forget, you can redeem your colleague discount with Co-op Holidays.
Book your Co-op Holiday today with Your Co-op Travel or Carrick Travel.
Contact: 01922 234 400
Email: sales@cooptravel.co.uk
Live chat: cooptravel.co.uk
In branch: Visit your local Your Co-op Travel or Carrick Travel branch
*Terms and conditions apply see here
Get up to £500 off your next holiday with Your Co-op Travel!
As a valued colleague, you are entitled to 10% off holiday bookings - up to a maximum of £250 off in a 12-month period. However, for a limited time only, all colleagues are entitled to 10% off holiday bookings - up to a maximum of £500, only available until 27th January 2024.