Community Funding is now open!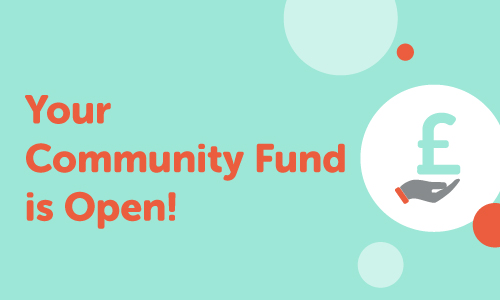 This article will take approximately 2 minutes to read
Published 10 Jan 2022 in Communities
Are you part of an organisation or community group? Then you could apply for a community grant! Applications are now open until 4 February.
You may already know that as a Midcounties colleague you are working for a different kind of Co-operative. We believe in the DOES four key values that guide our business practices; Democracy, Openness, Equality & Social Responsibility.
So as a community-minded organisation, we want to support colleagues who are making a real difference in their community.

Dates for your diary:
Community Fund opens for applications on Monday 10th January

Funding closes on Friday 4th February
If you are involved with a local organisation, then let us support you by offering funding of up to £2,000 from the Society's dedicated Community Fund.
To celebrate our Co-op difference and to highlight to our Members the way our community donations are distributed and how they make a difference locally, please note that all successful applicants will be asked to attend our Society AGM which will be held on Saturday 14th May and take part in our community presentation.
If you care about it, then so do we!
How to apply?
Please use the link below to visit our website to complete the online application.
The closing date for the Community Grants is Friday 4th February.
Some of the fantastic projects we've funded
Every year we hand out funding to a wide range of applicants to ensure that they can continue to make a positive impact in their local communities. Here are just some of the recipients of our Community Fund in 2021:
Hollie Gazzard Trust, Cheltenham & Gloucester:

Funding has been used to deliver 12 half-day Healthy Relationships workshops, educating around 360 students from schools & colleges across Gloucestershire

National Childbirth Trust, Leamington & Warwick:

Funding donated was used to support parents by providing weekly parent walks delivered by volunteers, and online breastfeeding support from a qualified breastfeeding counsellor.

Safe Places Shropshire, Shropshire:

This funding will be used to contribute promotional items and website development to continue the project's work of providing vulnerable individuals with a number of places that they know they can go to and immediately receive support and understanding about their issues.
Ludlow & District Riding for the Disabled, Wyre Forest:

Funding has been used to pay for a riding subsidy for the less able and disadvantaged young people (i.e. under 18's) for which horse riding, with all its immense benefits, both physically and psychologically, would be out of reach. The funding provided will allow them to participate.

RAW Workshop, Central Oxford:

This funding will support the running costs of their specialist programme designed to offer training placements to young people to learn woodwork and carpentry skills.

Home-Start Stroud and Gloucester, Stroud:

Funding has supported the provision of a free 10 week volunteer training course