Ho Ho Oh...Christmas Travel Money!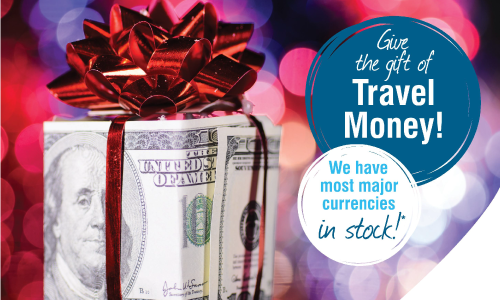 This article will take approximately 1 minute to read
Published 2 Dec 2019 in Things that matter to you
Oh, suddenly realised Christmas is just around the corner, still struggling to think what to get everyone this year?
Why not let your loved ones splash the cash on a holiday next year with a gift of Travel Money.
As a Midcounties Colleague, you get some amazing exchange rates on foreign currency however much you buy.
So, if you just want $30 for the grandkids trip to Orlando next summer or €50 for your Mum's girly weekend in Amsterdam, (the one she hasn't told your dad about yet), then you know where to come this festive season, visit Co-operative Travel, great Travel Money rates for Colleagues with no minimum spend.
We don't do online ordering, instead, we have friendly Colleagues in 56 branches there to help & advise customers and Colleagues on all their currency needs. To find your nearest Co-operative Travel branch see here.
Want to request a callback or get a quote from a branch, use our Travel Money enquiry form here.
Just want to check today's Euro & US Dollar rates, please visit our Colleagues Connect page here.
P.S.
Don't forget to mention you are a Colleague when you enquire and please take your Midcounties employee card along when you make a purchase.
We accept cash, debit card, Visa & Mastercard credit cards as payment for Travel Money, please note ID is required for card purchases over £500 (either driving licence or Passport).
Have a fantastic Christmas & a prosperous New Year from everyone at Co-operative Travel!