How co-operatives are tackling modern slavery – Co-op Fortnight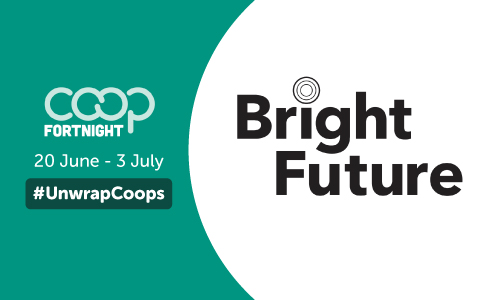 This article will take approximately 3 minutes to read
Published 22 Jun 2022 in Raising Awareness
In our second Co-op Fortnight article, we're finding out how co-operatives are helping people escape modern slavery.

About Bright Future
Bright Future is a co-operative providing victims of modern slavery with a pathway to paid employment and reintegration into society.

How it began
The organisation was originally set up in 2017 by the charity City Hearts and Co-op Group. The idea was to bring together charities who support victims of modern slavery and businesses who are able to provide paid work placements for them.
Midcounties was one of the first business partners for the initiative, offering four-week paid placements to survivors (so far within our Food and Childcare businesses) with a view to providing a permanent position where a suitable vacancy is available.
How it's going
50

business and charity partners

66

placements provided across its business partners

47

placements led to permanent employment

19

more placements in the pipeline
In 2020, Bright Future became a legal entity in its own right, taking on the co-operative model to reflect its democratic structure and the way the partners work together to achieve its social goals.
As one of the founding partners, Midcounties holds a seat on the board, which means we continue to provide guidance and support for the organisation as it grows. Colleagues, Pete Westall and Sean McGovern from the Society are Chair of the Board and Secretary respectively. We also continue to provide placements across our businesses.
With Covid restrictions lifting, Bright Future Co-op hopes to be able to increase the number of placements provided in the coming year.
Latest news - Why Bright Future Co-op's work is so important
Latest news
Excitingly, Bright Future Co-op has welcomed retail giant Morrisons as its newest business partner. Morrisons joins other high street names already providing life-changing work placements, including Greencore and Currys.
Why Bright Future Co-op's work is so important
40.3 million

people worldwide are in modern slavery

24.9 million

are in forced labour

10,000

victims reported in the UK (although actual figures may be much higher)

71%

of victims are women and girls

Modern slavery can take the form of human trafficking, forced labour, debt bondage (where people are trapped in poverty, borrow money and are then made to work to pay off the debt) and forced marriage.
Organisations such as Bright Future Co-op help to get survivors back on their feet by providing them with support, placements and opportunities to make new, free lives for themselves.
The difference placements make to survivors
Dawn Green from HR has been a sponsor for the Bright Future Co-op Programme. She believes the initiative is important in giving survivors of modern slavery back their confidence while improving their communication and interpersonal skills.
She says, "One candidate said that the placement and a permanent role that followed gave her the confidence to take her driving test. As she was earning a permanent salary, she could buy a car and that gave her back the independence she lost during her traumatic past. She was so grateful to the Society for giving her the opportunity."
You can find out more about Bright Future by visiting the website here or checking out their Linkedin page here. The theme for this year's Co-op Fortnight is Unwrap Co-ops – celebrate everything you love about co-ops using #UnwrapCoops.