Introduce yourself with Rupert Newman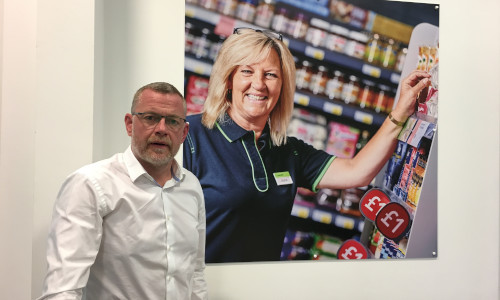 This article will take approximately 1 minute to read
Published 30 Oct 2019 in Team Talk
Recently we caught up with Rupert, who joined Midcounties this month as the Chief Food Retail Officer. Read about his introduction to the Society so far along with some quick-fire questions...
What does your role involve?
Four key things…..working with my leadership team to set the overall direction for the food business, engaging the teams across the society & beyond who can support us in what we are trying to deliver, helping remove any obstacles we might come across along the way & then cheer on our progress as we deliver the plan.
Why did you decide to join Midcounties?
I have spent most of my career in food retailing & customer-facing roles - that is what I enjoy, so it was important to me that the role delivered on both fronts. What attracted me about Midcounties, in particular, was a combination of what the Society is trying to achieve as well as how we are setting about doing it. Whether that is our values that underpin how we do what we do, the people I engaged with & the stores I visited through the recruitment process through to talking with people I know who work within the wider Co-operative movement….it wasn't a hard decision to make to join the team here.
Tell us a little bit about your career journey up to joining Midcounties?
I joined ASDA as a Graduate trainee, I started in-store and moved onto working in a variety of roles across operations, store development, clothing, planning & marketing with them, Boots & Sainsbury's. For the past 5 years, I have been working for McKesson UK (who incorporate Lloyd's Pharmacy) running first their retail & most recently their wholesale businesses.
What's the biggest challenge you have faced in your career?
For the majority of my career, I have worked in a customer-facing environment, and for the last three and half years, I have been working in a business to business role serving businesses who in turn serve their customers. Being in a position where you would not on a day to day basis face the primary customer and still staying connected was a real challenge for me & a very different environment to operate in. It was a great learning experience, it has been my biggest challenge but once I had worked it out I really enjoyed it.
Quick-fire questions:
What's top of your bucket list?
Climbing Mount Everest...although the £60k cost & the 6 weeks required for acclimatisation will probably see that never happens!
Which three celebrities would you invite to a dinner party?
Richard Ashcroft, Rik Mayall and the Queen.
What's one of the scariest things you've ever done?
Summiting the Matterhorn.
What's your favourite place you've ever visited?
Maasai Mara in Kenya on safari.
What's the best piece of advice you've ever received?
If you are good enough, you are old enough.