Men in Childcare – Develop your Career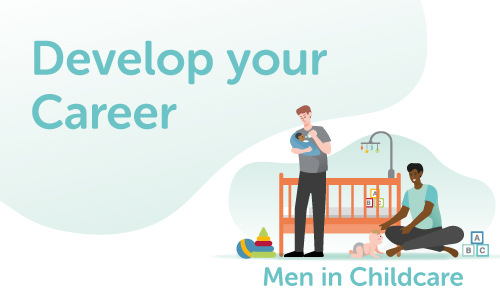 This article will take approximately 2 minutes to read
Published 29 Jun 2022 in Raising Awareness
Welcome to the final week of our Men in Childcare campaign, focusing on how colleagues can take their next step into this exciting world of opportunities. Last week we heard from Philip Sarthou, our Head of Commercial Growth for Childcare, Philip talked about what working in Childcare means to him and why he is an advocate for men working in this sector – thank you Philip for sharing your thoughts with us!
This week we hear from Joanna Stanley from our Croydon Nursery who shares her exciting career journey with us, take it away Joanna...


We are now recruiting and we have some exciting opportunities for our colleagues;

If you answered yes, we could have the perfect role for you! We have a number of vacancies across the Childcare group and the great news is you don't have to be qualified in Childcare to apply! In fact, we will support you through your Level 2 or level 3 apprenticeship (assessment required) while you're working – How fantastic earning and learning!
Click here to access the current vacancies
What are the benefits of working in Childcare?
Enhanced Childcare discount of up to 60%

If you Refer a friend from outside of the Society you could be eligible for up to £1000* T&C's apply and that colleague if successful could receive a welcome bonus of between £750 - £2000

Apprenticeships and training to support your continued professional development

Competitive Rates of pay - Unqualified £9.50, increasing to £9.70 from August 29th 2022, Level 2 £9.70 increasing to £9.90 from August 29th 2022
We can also provide colleagues with taster sessions to find out what it's like to work in one of our nurseries for a 2 week period.
Make the jump - join our Little Pioneers
So, if you're interested in a change in your career with Midcounties you can either apply via the careers website or contact recruitment for more info.