National Youth Summit Event – Join in!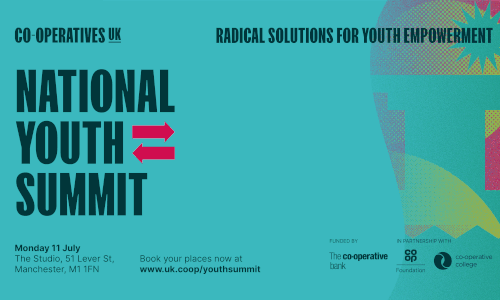 This article will take approximately 2 minutes to read
Published 30 Jun 2022 in Raising Awareness
Are you a young person looking to join a movement that empowers people and communities, giving a voice to all? The National Youth Summit is the event for you…
Hi, I'm Ayesha Di'Angelo, the Young Co-operators Network Co-ordinator, and this year I've been put forward for the National Youth Summit Advisory Board; working closely alongside other fantastic young co-operators such as Lenny Watson from Sister Midnight and Lois Hill – The youngest member of the Co-operatives UK board!
We've spent the last month putting the event together from scratch, from finding the venue to booking speakers and we are offering 10 colleagues the chance to attend the event – all travel and accommodation expenses paid!
If you are interested in joining the National Youth Summit Event on Monday 11 July just email me on ycn@midcounties.coop
Realise your individual potential and create a fairer world
It is your chance to join hundreds of young people at The Studio in Manchester to explore radical solutions to the big topics of the day – and discover how we can create a fairer future.
The event will bring together young people, leaders, change-makers and creators to empower young people through the principles of co‑operation. From job security to mental health and co‑operative and ethical working, discover how co‑ops can enable the young people of today to become the leaders of tomorrow!
Attend one of the many workshops on the day, designed to empower young people to realise their individual potential – and their collective potential to create a fairer world.
Also looking forward to our guest speakers, including Andy Burnham, Mayor of Greater Manchester and Ben Procter, Chair of the Scottish Co‑op Party!
Some of the topics we will be exploring are:
Tackling big issues

Social issues: Mental health, job security and culture will be addressed as we consider how to provide solutions for the greatest concerns of our youth.

The environment: What can the fashion industry teach us about our ethics and values? What can we do about climate change as a community?

The economy: The cost of living has risen and job security is among the top three concerns of our young people today. How can co‑ops provide a radical solution?