The world's most ethical smartphone from the fairest supplier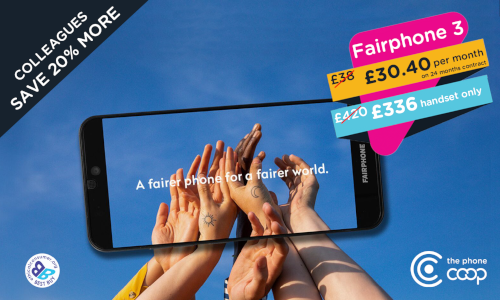 This article will take approximately 2 minutes to read
Published 8 Oct 2019 in Colleagues
Fairphone 3 from The Phone Co-op
The Phone Co-op are passionate about fairness in their products and services, so are proud to continue their partnership with Fairphone from 2013 with the introduction of Fairphone 3 – the 'ethical alternative' in The Guardian's five of the best mobile phones.
A phone for everyone who cares about how their products are made. It's got everything you'd expect from a great phone – and so much more. It improves the conditions of the people who make it and uses materials that are better for the planet.
Because how it's made matters...so why is Fairphone rated as the world's most ethical and sustainable mobile phone manufacturer?
Fairphone support communities, not conflict so work with initiatives that source conflict-free tin, tungsten, tantalum and Fairphone is the first smartphone with Fairtrade gold.

The Fairphone 3 has all the features you expect from a high-quality handset and is built as ethically as possible

The Fairphone 3 is designed for long-lasting change - for consumers, the industry and every link in the supply chain

The Fairphone's modular design means you can replace many parts using just the screwdriver that comes with it

Fairphone are moving one step closer to a circular economy by encouraging the reuse and repair of their phones, researching electronics recycling options and reducing electronic waste worldwide. For this reason, a charger, earphones or USB cable are not included with Fairphone 3

Fairphone, as a certified B-Corp organisation, believes in a fairer future. It is committed to worker rights and partners with producers, labour rights experts and NGOs to improve working conditions in the heart of the electronics sector, including health and safety, worker representation, healthy working hours and worker welfare projects.
"The Phone Co-op's relationship with Fairphone goes back to their beginning, when we actively supported them to establish a viable market for ethical consumer electronics," says Jacci Marcus, Head of Residential Business at The Phone Co-op.
"Fairphone 3 is a real step forward for conscious consumers – people, including business professionals, who care about social and environmental values - who want a good smartphone and to make an ethical purchasing decision.
"With The Phone Co-op they get both. We're the UK's only telecoms co-operative, 100% owned and run by members, and with a commitment to sustainability and fairer trade."
To get your 20% colleague discount on Fairphone 3 or any other Phone Co-op offers please call 01608 434 040 or click here.
#DareToCare