Want a challenge? Sign up for the London Marathon 2020!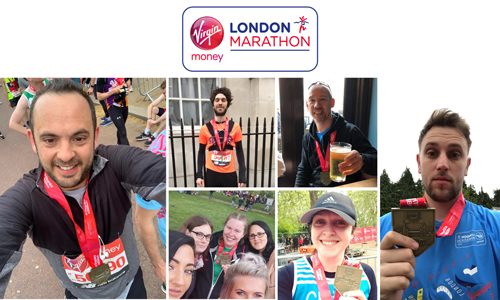 This article will take approximately 1 minute to read
Published 9 Oct 2019 in Fundraising
Looking for the next challenge and want to raise money for a great cause at the same time?
Well, the Society are recruiting the next batch of fearless runners for the London Marathon 2020. Don't worry you won't be alone! As the Society can help you build networks for fundraising and help you get your charitable message out there.
At the moment, this is a call to action to invite anyone who is interested in running the marathon, which takes place on Sunday 26th April 2020. Take a look at our runners from last year to gain a flavour in part 1 & part 2.
Who are we raising money for?
We will once again be running for the Societies long-standing charity partner, The Outward Bound Charity Trust, awarding five places to colleagues that will form the team for Midcounties. In the run-up to the marathon, you will have the opportunity to co-ordinate a range of fundraising activities across the Society to up the overall total.
I'm nervous and have never run a marathon before?
Well, you don't need specific experience as help, support and advice will be given as part of the team. So, if it is on your bucket list or even a pipe dream, we recommend you consider this as a kick start to your challenge!
How can I sign up?
Please contact stuart.newman@midcounties.coop by the end of 25th October 2019 with your name, site, trading group and in no more than 200 words, why you want to take part and how you think you can raise as much as possible for our charity partner.
#DaretoDream