Your Colleague Pulse Survey is Now Open!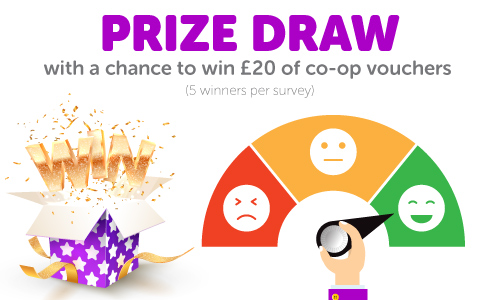 This article will take approximately 2 minutes to read
Published 23 Oct 2020 in Colleagues
Let us know your views and you could win one of five £20 Co-op Vouchers!
Thank you to all the colleagues that took part in the last pulse survey. As we communicated in previous articles, we will be sending out pulse surveys on a 4-weekly basis. This is so we can continually monitor the engagement of all our colleagues across the Society, and where necessary make changes based on your feedback.
Win one of five £20 Co-op Vouchers this month! All you have to do is take part in the survey, Terms and Conditions apply - see below.

October Survey Results
A thank you to all colleagues who took part and let us know their views last month on the topic of travel. It was very encouraging to hear that 60% of respondents are planning to take a Summer Holiday in 2021 which is great news. We've been looking at where colleagues are wanting to travel and Travel are now developing a product around these destinations (it was the UK, Spain and Greece as the main choices). The feedback on the website was invaluable and we've been looking at refreshing the website along with a faster search area.
To note, the survey is completely anonymous and by signing into Colleagues Connect, only you (as a colleague) can take the survey. The information of signing in is not linked to the survey results and therefore completely confidential.
It is so important that all colleagues complete the survey so we have a really good breadth of feedback to act on, and of course, it's completely confidential. The survey will take no more than 5 minutes to complete, so please click on the link below and complete yours today.
Remember your views matter!
Sign in to complete your Pulse Survey
Prize Draw Terms and Conditions
Prize Draw Terms and Conditions:
How to participate;
1. To take part and have a chance of winning, entrants must enter their email address at the end of the survey
2. All entries received prior to the closing date will be valid. There will be 5 winners, selected at random and announced within Phil's Blog on Friday 4th December.
Restrictions;
3. Internet access required.
4. This prize draw is open only to the Midcounties Co-operative Colleagues. This competition is not open to anyone outside of the society or their families, agents or anyone else connected.
6. Colleagues Connect is not liable for entries which are not received, or which are incomplete, corrupt or delayed for any reason. Proof of submitting an entry is not proof of receipt by the Promoter.
7. Only one entry per person will be accepted. Entries submitted on behalf of another person will not be accepted and joint submissions are not allowed. Incomplete, illegible, misdirected or late entries will not be accepted.
Opening and Closing Dates;
8. Competition prize draw opens on 20/11/20 at 11.00am and closes at 23:59pm on 29/11/20.
The Prize;
9. There will be 5 winners selected from all valid entries.
10.The winners will each receive a £20 Co-op voucher which will be delivered to the provided colleague address.
11. The prize is as stated, is non-transferable and there is no cash alternative.
12. The winners will receive their prize within 28 days of notification. The result of the competition is final, and no correspondence will be entered into, except with the winners. Colleagues Connect are not responsible if a winner does not receive notification or delivery of their prize as a result of having provided incorrect/incomplete details when requested following notification.
13. Colleagues Connect will not offer an alternative prize of equal or greater value. In the event of unforeseen circumstances or circumstances outside its reasonable control, Colleagues Connect reserves the right to modify or discontinue, temporarily or permanently, this competition without prior notice.
Notifications;
14. The winners will be notified prior to the announcement in Phil's Blog on 04/12/2020. The vouchers will be posted to the winner's address.
15. In the event that contact cannot be made with a winner by the end of 02/12/20 (23.59pm) then a new winner will be selected from other remaining entries and the original winner will forfeit the prize.
16. The winner will be selected in an independent random draw from all valid entries received after the competition closes.
Data Protection;
17. Colleagues Connect may collect personal information from Entrants under the Data Protection Act 2018 and other applicable data privacy laws. The Promoter will only use Entrants' information for the purposes of the administration of this promotion. View our data protection policy here.
Acceptance;
18. Colleagues Connect reserves the right to discount any inappropriate or offensive entries and to disqualify from the prize draw any entrant suspected of fraud or cheating including, without limitation, through the manipulation of codes, multiple computer generated entries, or otherwise in our opinion fraudulently falsifying data or acting fraudulently or dishonestly.
19. Colleagues Connect cannot accept liability for any system failures, network errors, website unavailability, hacks on the system, personal computer issues or any other issue out of our reasonable control.
20. The Colleagues Connect decision is final in every situation (including any not covered by these terms and conditions).
21. Entry to the competition shall constitute your acceptance of these terms and conditions and your agreement to be bound by them.
22. During the competition, the winner agrees to photography and filming, to be used in the public domain.
PROMOTER:
Corporate Communications, Colleagues Connect, The Midcounties Co-operative, Co-operative House, Warwick Technology Park, Gallows Hill, Warwick, CV34 6DA