10. Learning & Development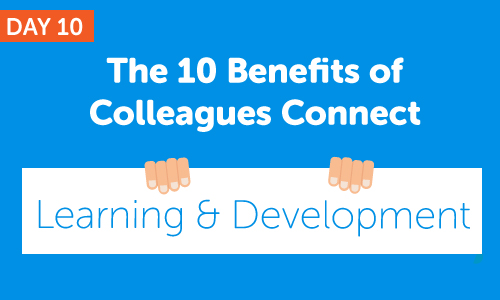 This article will take approximately 2 minutes to read
Published 13 Aug 2019
To celebrate a year since Colleagues Connect launched, not only are we running an amazing competition (which ends today!!) but we're also showcasing the top ten reasons for using your colleague website!
Today we're talking Learning & Development (or L&D), which is the gateway to furthering yourself and developing your career!
Where can I find the Learning & Development page?
The L&D page can be found by going to the 'Working Here' section and clicking on 'Learning & Development'
What can I find on the Learning & Development page?
There are loads of resources to help you to develop yourself including:
The L&D Catalogue – providing information on the full range of learning activities on offer to colleagues for your personal & professional development

How to log into i.Learn – your learning portal

i.Learn User Guide

Trading Places programme for managers – gain experience in another area of the business

Team Midcounties Induction – all the latest induction dates for new starters
Where can I find the latest career opportunities at Midcounties?
Once you've taken advantage of the range of learning opportunities we offer, you can take the next step and search for your next role at Midcounties by checking out Eploy.
You can check out Eploy by clicking on the 'Internal Vacancies' link in 'Quick Links' or by going to the Careers page within the 'How To' section, where you can also find out how to register for internal vacancies and job alerts. Click here to find out more.
Have a question? Want to give us some feedback?
You can ask us questions and provide feedback in the comments section below or by using the thumbs up/down buttons at the bottom of the page.
For more information about submitting feedback, please click here.