Brexit Updates
Check out this page for regular updates on all matters regarding Brexit and what impacts it may have on your role, trading group and the wider Society.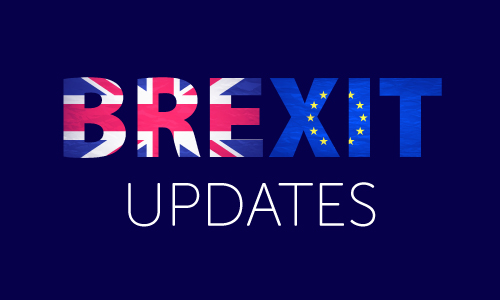 As part of ongoing contingency planning for Brexit, a weekly meeting is held by the Executive and the Head of Audit and Risk. These discussions and any subsequent actions are scenario planning to ensure minimal disruption to business for our customers and colleagues.
This meeting has a standing agenda item and reacts to any announcements by Government agencies for Brexit preparation.
Items that are currently included in the weekly discussions are:
Food Retail

Travel

Other Trading Groups

Cashflow

People

Communications
We will be updating this section of Colleagues Connect as and when things change that may have an impact on Midcounties colleagues, ensuring that you are kept in the loop with anything that may have an impact in your day-to-day role, trading group or the wider Society.
As you will be aware, the state of Brexit and our government can change on a daily basis, so we will be doing our utmost to ensure that you are kept up to date and our colleagues are the first to know of any changes that will impact them.
EU Nationals and Brexit
There is a lot in the news at the moment about the possibility of a "no-deal" Brexit. If you are an EU national, you may be concerned about how that would affect your right to continue to live and work in the UK. We want to assure you that even if the UK leaves the EU on 31 October without a deal, there is no need to worry about your right to be employed by the Society and remain in the UK with your family.
As a leading Co-operative business we believe that the commitment and hard work of all our colleagues, regardless of nationality, is vital to the success of the Society. As such, in the event of a "no deal" Brexit your right to work for the Society will not be affected. It is difficult to predict what other impacts Brexit may have on our colleagues. As things become clearer we will keep our Brexit section of Colleague Connect updated so that you are kept in the loop with anything that may have an impact in your day-to-day role, trading group or the wider Society.
EU citizens will be free to live and work in the UK during the transition period. EU citizens who have been living lawfully in the UK before the end of the transition period on 31 December 2020 will be able to continue living in the UK. They will have until 30 June 2021 to apply for a document confirming their status (31 December 2020 in the event of a `no deal`). This also applies to citizens of Norway, Iceland, and Liechtenstein (EEA countries), and a separate agreement with Switzerland for its citizens. However, if you haven't already we encourage you to apply sooner rather than later. You can find more information regarding the EU Settlement Scheme by clicking here.
These agreements mean that most citizens from the EU, Norway, Iceland, Liechtenstein and Switzerland will need to apply to stay in the UK. They can then continue living their lives here as they do now.
If you are ready to apply you can do so by clicking here.
If you or your family require any guidance on this, please do not hesitate to get in contact with us via the HR advice line 0845 0999 6000 for confidential help and advice.
Whilst the future with Brexit is still unclear, we assure you that all of our colleagues who are EU nationals remain a valued part of the Society.