Coronavirus Information Centre
We're continuing to review the situation in relation to the coronavirus pandemic and how this develops over the coming days and weeks. This page is your source of up-to-date information for the coronavirus.
Some information on these pages is private. If you are part of the leadership team please sign in to view this information.
Sign in
Frequently Asked Questions
Frequently Asked Questions - Coronavirus
To read the latest colleague FAQs on COVID-19, please click here.
Wellbeing Tips for Coronavirus
Wellbeing Wednesday - Coronavirus Toolkit
In these challenging times that we face, we felt it beneficial for our colleagues to have access to tools and tips to guide you through this unusual situation. Whether you are working in a site, self-isolating, working from home, furloughing or managing others - within the following toolkits you will find ideas and resources that have been designed to support and reassure you.
Click here to access your Coronavirus Toolkit - Week 1
Click here to access your Coronavirus Toolkit - Week 2
Click here to access your Coronavirus Toolkit - Week 3
Click here to access your Coronavirus Toolkit - Week 4
Looking after your mental health during the Coronavirus outbreak
Infectious disease outbreaks, like the current Coronavirus (Covid 19), can be scary and can affect our mental health. While it is important to stay informed, there are also many things we can do to support and manage our wellbeing during such times.
Here are some tips we hope will help you, your friends and your family to look after your mental health at a time when there is much discussion of potential threats to our physical health.
Try to avoid speculation and look up reputable sources on the outbreak
Rumour and speculation can fuel anxiety. Having access to good quality information about the virus can help you feel more in control.
You can get up-to-date information and advice on the virus here:
Follow hygiene advice such as washing your hands more often than usual, for 20 seconds with soap and hot water (sing 'happy birthday' to yourself twice to make sure you do this for 20 seconds). You should do this whenever you get home or into work, blow your nose, sneeze or cough, eat or handle food. If you can't wash your hands straight away, use hand sanitiser and then wash them at the next opportunity.
You should also use tissues if you sneeze and make sure you dispose of them quickly if you don't have a tissue sneeze into your sleeve and stay at home if you are feeling unwell.
Avoid touching your eyes, nose and mouth with unwashed hands
Try to stay connected
At times of stress, we work better in company and with support. Try and keep in touch with your friends and family or contact a helpline for emotional support.
Also, don't forget the support colleagues can get from GroceryAid click here for more information.
It is a good idea to stick to your daily routine. You may also like to focus on the things you can do if you feel able to:
Stay in touch with friends on social media but try not to sensationalise things. If you are sharing content, use this from trusted sources, and remember that your friends might be worried too.
Talk to your children
Involving our family and children in our plans for good health is essential. We need to be alert to and ask children what they have heard about the outbreak and support them, without causing them alarm.
We need to minimise the negative impact it has on our children and explain the facts to them. Discuss the news with them but try and avoid over-exposure to coverage of the virus. Be as truthful as possible.
Let's not avoid the 'scary topic' but engage in a way that is appropriate for them. We have more advice on talking with your children about world news.
Try to anticipate distress
It is normal to feel vulnerable and overwhelmed as we read news about the outbreak, especially if you have experienced trauma or a mental health problem in the past, or if you have a long-term physical health condition that makes you more vulnerable to the effects of the coronavirus.
It's important to acknowledge these feelings and remind each other to look after our physical and mental health. We should also be aware of and avoid increasing habits that may not be helpful in the long term, like smoking and drinking.
Try and reassure people you know who may be worried and check in with people who you know are living alone.
Try not to make assumptions
Don't judge people and avoid jumping to conclusions about who is responsible for the spread of the disease. The Coronavirus can affect anyone, regardless of gender, ethnicity or sex.
Try to manage how you follow the outbreak in the media
There is extensive news coverage about the outbreak. If you find that the news is causing you huge stress, it's important to find a balance.
It's best that you don't avoid all news and that you keep informing and educating yourself, but limit your news intake if it is bothering you.
How should people deal with being in self-isolation or in quarantine?
If there's a chance you could have coronavirus, you may be asked to stay away from other people (self-isolate).
For people that are in self-isolation or are in quarantine, this may seem like a daunting prospect. It will help to try and see it as a different period of time in your life, and not necessarily a bad one, even if you didn't choose it.
It will mean a different rhythm of life, a chance to be in touch with others in different ways than usual. Be in touch with other people regularly on social media, e-mail or on the phone, as they are still good ways of being close to the people who matter to you.
Create a daily routine that prioritises looking after yourself. You could try reading more or watching movies, having an exercise routine, trying new relaxation techniques, or finding new knowledge on the internet. Try and rest and view this as a new if unusual experience, that might have its benefits.
Make sure your wider health needs are being looked after such as having enough prescription medicines available to you.
Infectious disease outbreaks, like the current Coronavirus (Covid 19), can be scary and can affect our mental health. While it is important to stay informed, there are also many things we can do to support and manage our wellbeing and mental health during such times.
Follow our top tips to look after yourself:
If you find that the news is causing you stress, try to limit the amount of coverage that you are reading or listening to. It's best that you don't avoid news completely and that you keep informed of the developments but try to limit this to once a day.
Be in touch with friends and family regularly to stay connected with them via social media, email or phone, it may change your normal routine but it's important to feel close to them when feeling worried or anxious.
If you are unable to work, it's important that you create a new routine through exercise, mindfulness, and hobbies to keep busy and active.
Eating well and keeping hydrated is important for physical and mental health, and good for keeping on top of low mood and blood sugar levels.
Help the vulnerable. If you can get out, think of those that it's more difficult for. Why not help the elderly or sick with their shopping or weekly errands to ensure they are kept safe.
Your GroceryAid Wellbeing Tips: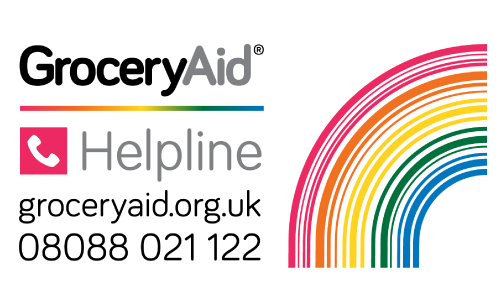 How can GroceryAid Help? Click here for more information.
- Self-Help Guides
We have various Self-Help Guides available through our partner Rightsteps from day one of working in the grocery industry. 5 Ways to Wellbeing, Anxiety, Healthy Eating, Low Mood, Physical Activity are just some of the topics available to work through for help.
- Wellbeing Sessions
Ideal for those looking to make lasting changes in their lives you have access to a more structured self-guided support. There are 6-8 sessions lasting approx. 45 minutes each. Sessions include topics such as General Anxiety, Learning to Change, Low Mood, Social Anxiety.
- 24/7 Helpline - 08088 021 122
GroceryAid provides a confidential 24/7 Helpline, 365 days a year for anyone who is working or has worked within the grocery trade, regardless of the length of service. This free service provides emotional and practical support to help through a difficult time.
Find out more:
Freephone Helpline 08088 021 122
We are following all advice provided by WHO, PHE and the NHS:
Travelling Abroad During COVID-19
For any colleagues travelling abroad, they must be mindful of the below requirements when they enter back into the country and must factor in any self-isolation period on arrival as part of their leave request.
Travelling to a 'red' country
If you are travelling to a country on the government's red list, then you will be required to quarantine on arrival into the UK for 10 days in a managed hotel. You will need to ensure that if you are travelling abroad and you fall into this category you make your manager aware and seek the necessary approval to have the 10-day quarantine period away from work. This time can be taken as either annual leave or unpaid leave.
A list of the countries on the red list can be found by clicking here.
Travelling to a non-red country
Fully vaccinated colleagues
If you're fully vaccinated, you can take either a lateral flow test OR a PCR test within 2 days of arriving in England. In both cases the test needs to be booked beforehand here – free NHS lateral flow tests cannot be used.
If you have a positive result on the lateral flow test you must self-isolate and take a PCR test. If your PCR test is positive you must isolate for 10 full days.
If your lateral flow test is negative, there is no requirement to self-isolate.
If you are not fully vaccinated
You must self-isolate for 10 full days.
How is the Society treating any time away from work whilst self-isolating following international travel?
The time away from work to self-isolate would be treated as unpaid or a colleague may choose to utilise their annual leave if in agreement with their line manager.
Alternatively, a colleague can also discuss with their line managers the possibility of changing their days of work or shifts so that some or all of their self-isolation period is deemed as their usual days off from work. However, this must be agreed with the line manager in advance and suit the operational needs of the business. Any colleague wishing to use this as an alternative to unpaid leave must make sure the shifts are worked within 4 weeks of their self-isolation.
For further government guidance on travelling abroad please use the following link here.
Travelling Abroad Form
Please note: our Insurers have advised that travelling against Foreign and Commonwealth Office advice may jeopardise your Death in Service insurance cover.
If you are planning to travel, please can you ensure you check the Foreign and Commonwealth Office website https://www.gov.uk/government/organisations/foreign-commonwealth-office for advice beforehand.
If you decide to travel despite restrictions and/or warnings in place, please can you complete and submit the below form before you travel.
Covid 19 Test Kits for Travel
Your Co-op Travel is working together with Your Co-op Pharmacy to help you with Covid-19 testing for your travel needs when you need it.
As a values-driven Co-operative business, we don't feel it's right to profit from the sales of Covid-19 testing kits and so that's why we're offering testing kits at cost price to Your Co-op Travel customers via an exclusive voucher code that you'll get when you book with us or if you already have an existing booking. Please get in touch for further information.
Some countries require a negative Covid-19 test certificate to gain entry, so entry requirements can change at any time. We strongly advise you to check the FCDO website for the very latest guidance. For the latest information, you can visit the Covid Travel Service.
Click here for more information and purchase Covid-19 testing kits for travelling.
General Guidance and Contact Details
The Society is continually reviewing the situation in relation to the Coronavirus, however, with the situation ever evolving it is important that you also keep yourself up to date with any developments. Below are some useful links which can provide you the most up to date information regarding the Coronavirus.
If you are entering into self-isolation or have received a positive test result for the Coronavirus please inform your line manager. If you have received a positive test result either yourself or your manager should also make the HR Advice Line aware by either calling 01926 516 469 or email hr.advice@midcounties.coop
Colleagues can also take their own preventative measures to avoid the spread of the infection through basic hygiene practices for example:
Wash your hands with soap and water often
Using hand sanitizers regularly where available
Cover your mouth and nose with a tissue or your sleeve (not your hands) when you cough or sneeze
Put used tissues in the bin straight away
Clean and disinfect frequently touched objects and surfaces
The Society will continue to review the situation and how this evolves, and within Colleague Connect you will find a copy of some Coronavirus FAQ's, Temporary Changes to Society Policies and Procedures Policy and a Coronavirus Symptoms Policy to help assist you.
Media/Press enquiries: As a Colleague, should you be approached by any member of the press/media please direct them to Citypress - 0121 314 4197 - midcounties@citypress.co.uk
Vulnerable Colleagues and Returning to Work
Protecting Clinically Extremely Vulnerable and Vulnerable Colleagues
The safety of our Colleagues is a key priority and all Colleagues must follow the latest Government Guidance in respect to self-isolation.
Clinically Extremely Vulnerable Colleagues
In line with the latest Government Guidance, those colleagues who are classed as Clinically Extremely Vulnerable (CEV) must work from home wherever possible and not attend their usual workplace.
Where working from home is not an option, you must discuss this with your line manager and HR
Details of who would be considered as CEV can be found at : Government Guidance for clinically extremely vulnerable
Clinically Vulnerable Colleagues
If you are over 60 or clinically vulnerable, you could be at higher risk of severe illness from coronavirus. You:
should be especially careful to follow the rules and minimise your contacts with others
should continue to wash your hands carefully and more frequently than usual and maintain thorough cleaning of frequently touched areas in your home and/or workspace
Discuss the arrangements that are in place for your usual workplace and refer to the completed risk assessment.
Details of who would be considered as Clinically Vulnerable can be found at : Government Guidance for clinically vulnerable
All returning Colleagues
Upon your first day back your site manager will talk to you about the latest measures and practices that have been put in place to control the COVID-19 pandemic. These will include changes to both the way you work and your working environment. It is important that you understand and implement the changes to keep you and your fellow colleagues safe.
Returning Clinically Extremely Vulnerable Colleagues
As a colleague that was identified as CEV, before you return to work an assessment will be required on your workplace. Your site manager will complete this assessment and will talk to you about any extra measures that need to put in place so that you can both agree with them. It is important that any agreed measures are maintained once you are on site.
Click here to download the process policy to follow.
Click here to download the Return to Work Assessment.
NHS Test and Trace
This summary provides you with a clear description of what Test & Trace is and how it works.
What is the test and trace service?
Anyone who tests positive for Covid-19 will be contacted by NHS Test and Trace to talk through their recent interactions and who they have been in 'close contact' with. This could include places that they've visited or people they've been in direct contact within the few days just before and after they first got symptoms.
These people identified will then be contacted by the service and will be required to self-isolate for 10 days unless you meet the following criteria as outlined in Question 5 of the Covid-19 FAQ's
How does it work?
The NHS Test and Trace service works by alerting people who may have been in close contact with a confirmed case of Covid-19 and asking them to self-isolate for 10 days unless they meet the criteria outlined in Question 5 of the Covid-19 FAQ's. They can also be tested quickly if they develop symptoms. If the test is positive, then they, in turn, will be contacted to ask about any interactions they may have had before they self-isolated.
This will help stop the spread of the virus and track new infections.
What counts as a 'close contact'?
It is very important to understand the definition of 'close contact'. Close contact includes:
having face to face contact (at around 1 metre or less)
spending more than 15 minutes within 2 metres of someone
travelling with someone in a car or small vehicle.
You will also be asked about where you work or places you may have visited where you came into contact with other people, such as GP surgeries or schools.
How will you be contacted?
The service will contact you by text message or email but will follow up by phone if they don't get a response. You will then be directed to the NHS test and trace website. Here, you'll find more information on the system.
How will you know if a phone call from test and trace is legitimate?
Not knowing how to discern a dishonest contact tracing message is a common concern. The NHS test and trace team will only ever call you from 0300 013 5000 and send you text messages from 'NHS'. They will never ask you to dial a premium rate number (for example, those starting with 09 or 087).
Who do you notify if you are contacted by Test & Trace?
Please refer to the flowchart below.
What action do Site or Duty Manager's take if visited or called by a Test & Trace Assessor?
Clearly describe the protection measures that are in place in your site; the social distancing protocol and the personal protection equipment. Where close contact cannot be avoided in the workplace, wearing personal protection equipment helps to mitigate the risk significantly and may negate the self-isolation requirement.
Do not agree to take any action until you have spoken to your District/Area Manager. Always seek their advice and report any Test & Trace contact. Write down the conversation and the questions that you were asked so that a clear record is retained. Take a record of the name and contact details of the person calling or contacting the store in case follow up or clarity is required.
Access to Support Services Offices
To find out all the information you need to know before visiting one of our offices, please click here.
Click here to download the office re-opening risk assessment.
Furlough Pay Explained
To find out more about your furlough pay & how it's calculated, please click here.
Changes to Policies & Procedures:
Coronavirus Symptoms Policy
Click here to view the 'Coronavirus Symptoms Policy'
As we come into the autumn/winter months colleagues will start to naturally display cold and flu like symptoms which have very similar symptoms to that of the coronavirus, for example a high temperature or a new, continuous cough. Therefore, it is important that any colleague who displays any symptoms of the coronavirus needs to self-isolate and arrange for a test to be completed immediately, so that we are able to limit the potential spread of the infection to our colleagues, members and customers as well as minimise any absence from the Society.
Key points covered
Coronavirus symptoms
Arranging a test
Track and Trace
Test results
FAQ's
Kronos - Coronavirus Guidance
Kronos- Queries
Please raise a ServiceNow Incident in the first instance, for any Kronos query.
If a colleagues pay is incorrect, please review the colleagues timecard for the relevant adjustment weeks, and raise a historical correction for payroll to process.
Kronos-Sign Off
Sign off must be completed by 10am every Monday (12pm if within Childcare group)
If managers are out of the business and unable to submit the timecards, please use the Delegation action for another manager to process for you, click here for the user guide. Please ensure you speak to the manager you are delegating too, to make them aware.
Colleagues returning off Furlough
For colleagues returning off Furlough, managers are required to end date the colleagues schedule of a forward Saturday date and set up a new schedule with a start and anchor date of a forward Sunday date.
Colleagues moving to Furlough/Flexi Furlough
Managers will continue to see their colleagues on Kronos whilst they are on furlough.
Managers are required to create a schedule pattern and apply the furlough paycode to the relevant days the colleague will be furloughed for.
Timecard Entries
Please ensure that colleagues' exceptions are managed accurately and promptly to ensure that colleagues are paid correctly.
For colleagues that are off sick due to self-isolation/Covid-19, you must add a comment within the comments field to the colleague's timecard. Please refer to the user guide or video below for more information.
Sickness Information
Refer to the HR comms re recording and payment of sickness related to Covid-19

Refer to Colleague Handbook for Sick entitlement, within the Policies and Procedures page.

Don't forget to add a comment when logging sickness on the colleagues timecard. Click here to access the userguide

Please be aware that the Workforce Management team are unable to give out colleague sickness information
Annual Leave Carryover
For colleagues that need to carry over annual leave into next year's entitlement, please follow the guide by clicking here.

Annual Leave carryover MUST be approved by Area/District Manager and will then be approved by the Head of HR Specialist Services, before it reaches the WFM team to process.
Logging Hours Through a Paycode
There have been several queries come through for sickness hours being removed from the amount field within the timecard when adding a comment. Please ensure that there is a schedule time within the schedule field of the timecard to ensure the hours populate- when you select Full Schedule day

If the schedule field is blank, within the timecard, please enter in the number of hours the colleague was off for, in the amount field, click save and add a comment if required.
Please ensure hours are populated in the amount field before submitting/signing off timecards, please follow the user guide by clicking here.
Please continue to look at Colleagues Connect for updates.
Temporary Changes to Society Policies and Procedures Policy
Click here to view the 'Temporary Changes to Society Policies and Procedures Policy'
This policy sets out the temporary changes to Society policy and procedures for colleagues during the coronavirus (COVID-19) crisis.
Key policies covered:
Managing Attendance Policy

Annual Leave Policy

Flexible Working Policy
Colleague & Customer Protection – Knowing what's required
It is vitally important that all colleagues understand and adhere to the policies and procedures relating to personal protection and social distancing including, what personal protection equipment should be worn, what cleaning regimes should be in place, what social distancing protocols should be observed in both customer-facing and back-of-house areas and to help protect both colleagues & customers.
Guidance and instruction to help all colleagues understand what procedures and measures have been put in place by each group can be read below.
To help ensure the specific measures for each group are being implemented effectivity and consistently site managers have been asked to carry out an audit of compliance.
Food & Post Office

Pharmacy

Childcare
Coronavirus Vaccine Policy
Click here to view the 'Coronavirus Vaccine Policy'
This policy sets out our approach to COVID-19 vaccinations and Lateral Flow Testing and is part of our overall COVID secure steps to ensure a safe working environment but is not a substitute for other health and safety measures.