Community Partner Visits & the next phase of 1Change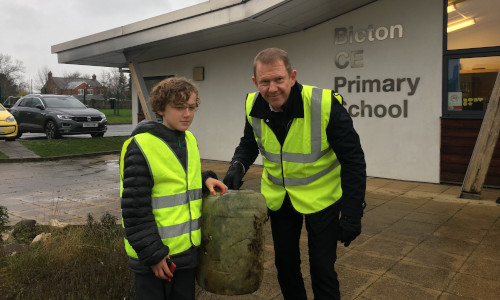 This article will take approximately 4 minutes to read
Published 29 Nov 2019 in Phil's blog by Phil Ponsonby
Community partner visits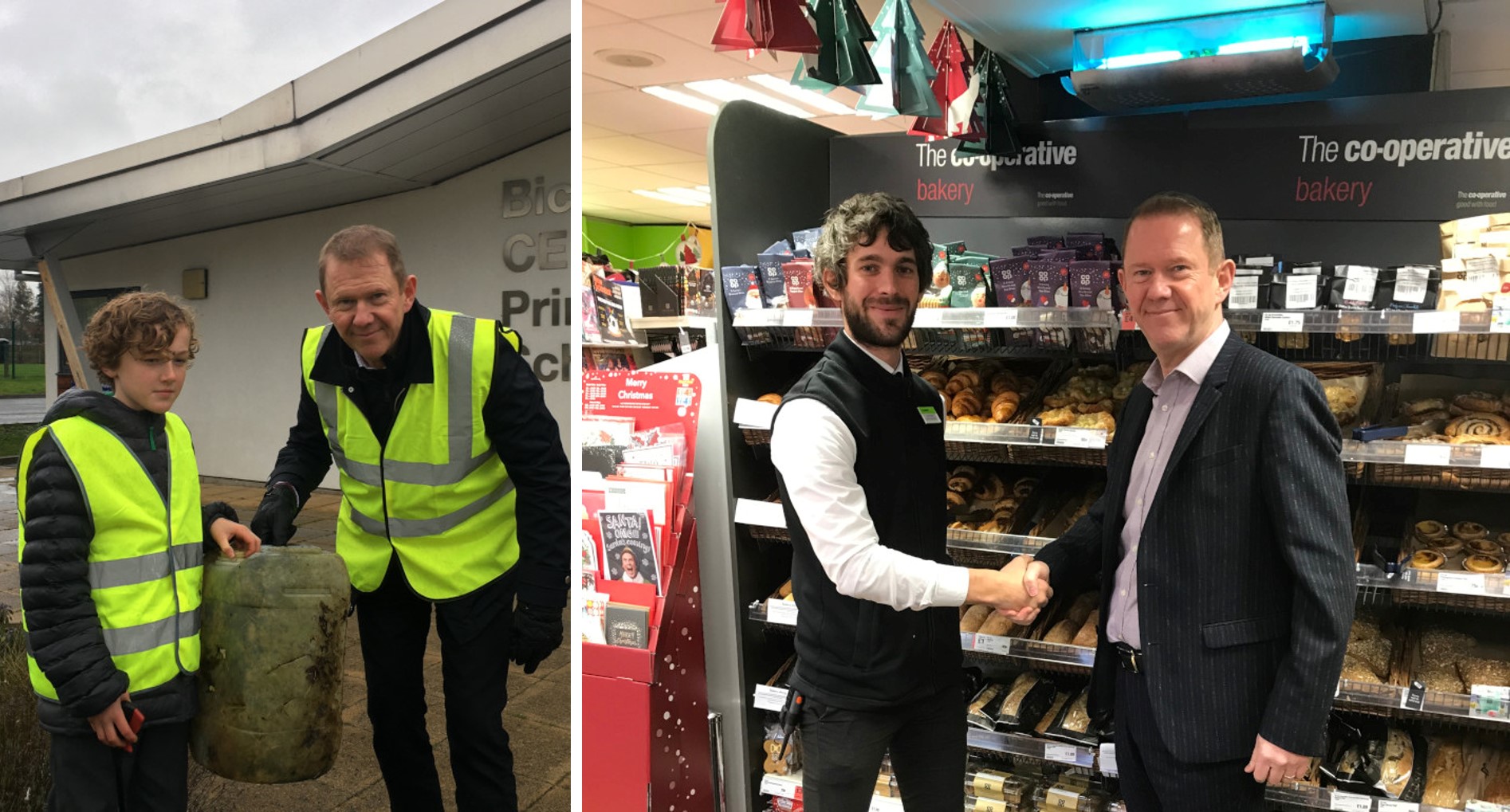 [Left to right: Collecting plastic waste with Thomas (Year 5) from Bicton primary school and meeting Aaron Gee, store manager, Walton Street, Oxford]
This week I visited three good causes to celebrate our community partnership in our Central Oxfordshire and Shropshire Regional Communities - Aspire Oxford, the Broken Spoke Co-op and Bicton primary school. At Aspire I heard first-hand about their great work helping homeless people including how much Aaron, our store manager at Walton Street in Oxford, had done to help them so afterwards I popped to his store to thank him in person. At Broken Spoke I was really impressed with their ingenuity in making new bicycles from old ones and at Bicton, I took part in a local litter pick with students. Our Environmental Ambassador Cal Major joined us by phone and she spoke passionately about the need to phase out single-use plastics starting with our 1 Change campaign and took questions from the pupils. I presented each of the partners with a cheque from our carrier bag monies towards their work and was really impressed to learn how our funding is being used to help support the whole community. This is the Society putting its values into action and exemplifies the Co-op difference. I'll be doing more community visits in the run-up to Christmas.
Warner Budgens acquisition
This week we welcomed over 185 new colleagues to the Society as we completed the purchase of four Cotswolds-based Warner Budgens food stores in Bidford-on-Avon, Broadway, Moreton-in-Marsh and Winchcombe. The acquisition, first announced earlier this year, strengthens our presence in the Cotswolds and will give members even greater access to high-quality food stores. Warner's Budgens colleagues have an excellent reputation for great customer service, product knowledge and will be a valuable addition to the Society. The quality of these stores provides us with a fantastic base for our ongoing investment in our Food store offering. They will also help strengthen our relationships with local producers, allowing us to continue to develop and grow our Best of our Counties range. Plans are underway for each of the stores to be converted to the Co-op Midcounties format but they will continue to trade as Budgens for the rest of the year. We are extremely grateful to Guy Warner and the team at Warner Budgens for working with us to support a smooth transition for our colleagues and customers alike. Click here to read more.
Members magazine

As I mentioned last week we have been producing some new digital content to accompany the online version of the magazine. This includes videos of our Chipping Norton in-store chef Denyce preparing a delicious Fairtrade chocolate and banana loaf cake and our exclusive online competition where you can win a new Fairphone 3. So please take a look by clicking here.
Co-op College Centenary
The Co-operative College this week celebrated its 100th anniversary, with a three-day conference in Rochdale, the birthplace of co-operation. Midcounties are members of the College, which is itself a Co-operative. We were represented at the conference by both Board members and management to hear from a range of inspirational speakers about what makes co-operative education unique and how it can offer solutions to some of society's biggest problems. One of the most interesting sessions at the conference was the first day, dedicated to Co-operation for a new generation. This gave real practical ideas for developing our own Young Co-operators Network here and we will be inviting some of the speakers to meet our own young members in the coming months. You can read more about the Co-operative College here and about the conference itself on twitter following the hashtag #CoopCollege100
The next phase of our 1Change campaign

We have now agreed the next phase of 1Change campaign. Since it was launched in March this year the campaign has:
Generated 900 member pledges to help tackle single-use plastics.

Created 1,000 eco-bricks by re-using waste plastics.

Replaced single-use plastic bags in over 100 Food Stores with compostable bags, helping to save over 3 million plastic bags per year.
The next phase of our campaign will be called 1Change in 1Minute.
It is designed to demonstrate what we can achieve collectively by committing just a minute to reduce our plastic use.
The campaign was launched this week with a survey which showed that most people are simply too busy to make a difference or have quality 'me time'. The survey was widely picked up by the national media and generated stories in the Independent, Metro and Daily Star, a fantastic result. Click here to see a list of the Top 30 things Brits don't have time for and do leave me a comment to say if you agree or disagree with the list.
The launch will be followed by a range of activities to engage members including using social media influencers, top tips from our Environmental Ambassador Cal Major and video blogs of 1Change pledges to inspire others. Members will be asked to put their 1Change in 1Minute pledge on our website here and to promote their pledge on social media here using the hashtag #1Change and tagging in @midcounties.
So why not set aside 1Minute of your time today to take the challenge?
National Nursery Awards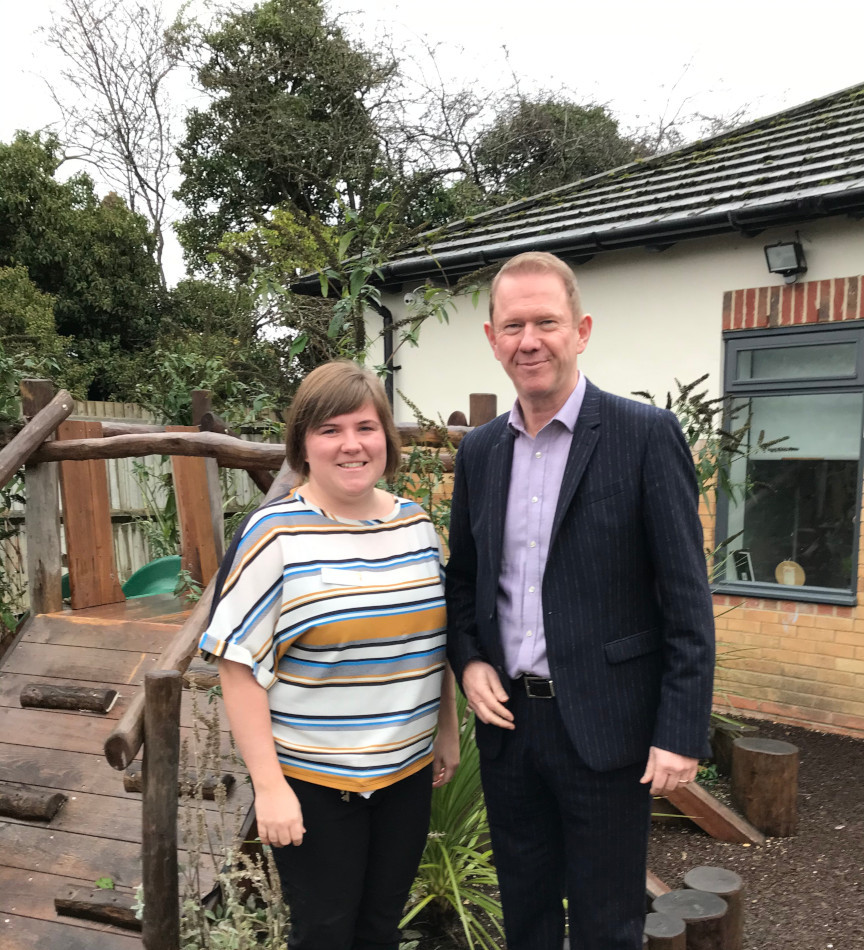 [Meeting Lorna Bishop, Nursery Manager, Rose Hill]
Tomorrow is the 17th National 'Nursery Management Today' Awards which rewards excellence in the early years and nursery sector. Good luck to our childcare team who have been shortlisted for the Nursery Team and Nursery Group Awards. A good example of our talented team is Lorna Bishop, the manager of our Rose Hill nursery in Oxford. She is a homegrown talent doing a fantastic job with an Ofsted rating of Outstanding. I dropped in to see her this week and she showed me the fantastic play area with a climbing structure designed by Sally Bonnar, our Chief Operating Officer.
That's it for this week, please let me know if you have any comments by signing in below. I look forward to hearing from you!