Diversity & Inclusion
The Society has a Diversity and Inclusion group, which is made up of various colleagues from across the Society, leadership team members and members of the Executive.
The diversity group covers all 9 protected characteristics which include age, disability, gender reassignment, marriage and civil partnership, pregnancy and maternity, race, religion or belief, sex and sexual orientation.
The purpose of the Diversity & Inclusion implementation groups is to;
Act as gatekeepers to focused activity related to Diversity & Inclusion, influencing and agreeing any forms of implementation on behalf of the Society.

Provide support, advice, assurance and governance for the Society to meet the commitments made to Diversity and Inclusion, in the following areas; Race, Age, Disability and Gender.

Monitor the agreed key areas of the Society's performance (including colleague recruitment, retention and progression) in relation to diversity indicators, drawing relevant issues to the attention of the Executive Team.

Champion, promote, recognize and value the diverse colleagues within our Society and the communities we serve.

Ensure any possible barriers to equal opportunities for all our colleagues are challenged.

To make recommendations on policies and practices within the Society.
Diversity & Inclusion Policy
Please click here to view the Society's Diversity and Inclusion policy
So, what have we been up to?
Since launching the diversity & inclusion groups we have introduced equality impact assessment forms, supported awareness days and much more...
Click on the links below to find out more information:
Birmingham Pride
In May 2019, our Colleagues were proud to celebrate LGBTQ+ by taking part in the Birmingham Pride parade, click here to see the pictures.
Poppy Factory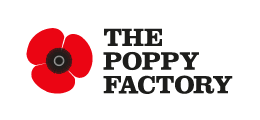 Since 1922 The Poppy Factory has been employing wounded, injured and sick veterans to produce the poppies, wreaths and Remembrance symbols for The Royal British Legion's annual Poppy Appeal and the Royal Family. Since 2010 the Poppy Factory has worked with businesses across the UK to support veterans in finding employment. The Society has recently partnered with the charity, and we are looking to help and support with employment opportunities.
Disability Confident Status
What does it mean:
Disability Confident is a government scheme that is designed to help the Society recruit and retain disabled people and people with health conditions for their skills and talent. Being a Disability Confident employer could help to discover someone in our business that we just can't do without.
The Society completed a self-assessment that was grouped into two themes:
Theme 1 – Getting the right people for your business
Theme 2 – Keeping and developing your people
During the assessment, we confirmed that we:
have undertaken and successfully completed the Disability Confident Employer self-assessment

are taking all of the core actions to be a Disability Confident Employer

are offering at least one activity to get the right people for your business and at least one activity to keep and develop your people
Supported Interns in Warwick HQ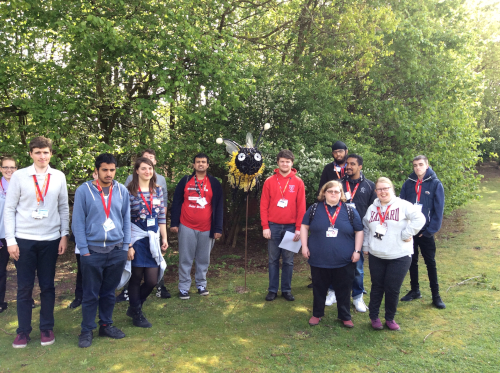 Currently, less than 6% of people with SEND (Special Educational Needs and Disability) are in employment. Our ambition is to help change this by being a leading organisation to introduce supported internships to our Society.
A supported internship is a study programme specifically aimed at young people aged 16 to 24 who have a statement of special educational needs or an EHC (special educational, health and social care needs) plan, who want to move into employment and need extra support to do so. Through learning in the workplace, supported internships enable young people to achieve sustainable paid employment by equipping them with the skills they need for work.
On 24th September 2019 we are thrilled to welcome our first three supported interns, Ellie, Patrick and Thomas, to work with us on an 11-month placement at Co-op House. Each intern will undertake 3 placements over the 11-month period in the following areas: Support Services, IT and Finance.
If you see them around, please make them feel welcome and say hello!
Walsall Pride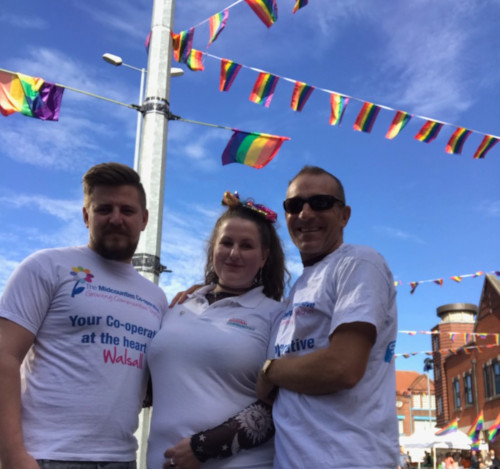 Andy Wood and Christie Lamb both Funeral Directors for Walsall along with Wayne Snape Funeral Assistant, and Cooper Bear had an early start on Saturday 24th August 2019 setting up for their first Walsall Pride event.
They took the Eco Leaf Limousine filled with our Eco Bricks giving the chance to win a fantastic hamper for guessing how many Eco Bricks were in the Limousine.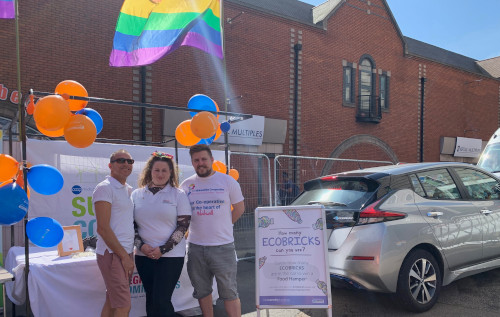 They also sold Pride Hearts for £2.50 each along with Walsall Funeral Home to raise funds for Street teams.
If anyone missed the chance to purchase a heart, we still have some at Walsall Funeral home, it's for a very good cause…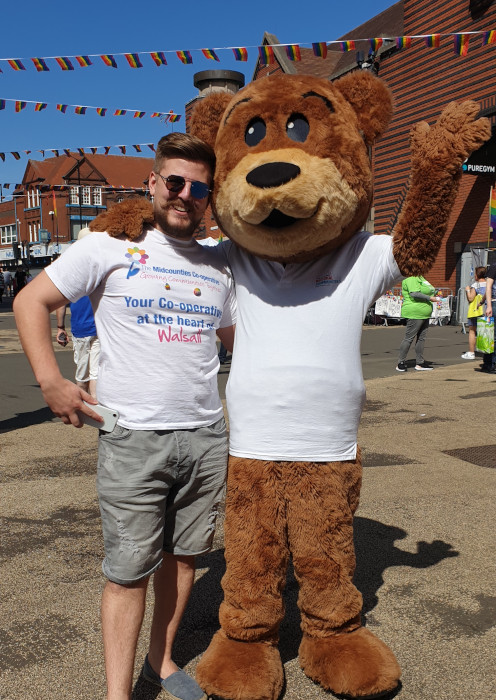 i.Learn Resources
Within our i.Learn system you can access a number of resources including a variety of e-learning courses compliance training, self-development learning zone, and book on face-to-face courses.
Click here to sign in to i.Learn
Helpline Numbers
Employee Assistance Programme – 0843 208 4568

HR Advice Line – 0845 099 600

Tel MIND – 0300 123 3393

Text MIND – 86463

Tel Samaritans – 116 123
5 Ways to Wellbeing
Here at Midcounties, we want to support our Colleagues wellbeing, and this includes their mental health. We know that for some of us, talking about our mental health can be an uncomfortable chat. However, with research suggesting that 1 in 4 of us will experience a mental health issue every year and that 17% of us are living with a serious mental health concern – it's time we started talking more about how we're feeling.
What's to come…
Review the representation of our workforce across the communities we serve

Review the career progression of women across the Society

Celebrate Diversity and Inclusion awareness days
Get Involved
If you are interested in being part of any of the diversity groups, please contact Rebekah.brain@midcounties.coop