Diversity & Inclusion
The Society is committed to building a diverse, inclusive and supportive working environment that encourages the development, progression and retention of our colleagues.
Our colleagues, members, customers and stakeholders will receive the same treatment regardless of age, disability, gender reassignment, marital or civil partner status, pregnancy or maternity, race, ethnic or national origin, religion or belief, sex or sexual orientation.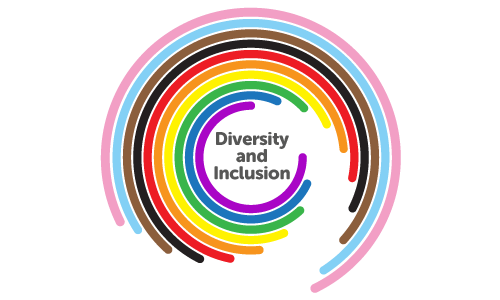 Click on the links below to find out more information...
EmbRACE Working Group
Educate, support and represent our colleagues
In March 2021 the Society held two Ethnic Minority listening group sessions as a safe space to share best practice, barriers etc across the Society. As a result of the feedback from the colleagues that attended the session, a working group has been established to help educate, support and represent our colleagues.
The group will provide a support network around specific challenges while also creating allies across the Society. The Society's colleague life cycle will be used as a basis of conversation to develop a robust action plan in this area.
This will include;
Attraction

Selection

Induction

Engagement

Driving Best Performance

Development

Career Pathing/Succession

Change

Conduct/Capability

Leaving the Society
Co-op Pride Working Group
We've started a Co-op Pride working group to create something positive that engages and supports our colleagues across the Society.
The group has been establised with two main focuses;
1. To establish an understanding of the issues faced by LGBTQIA+* colleagues, and ensure that every colleague enjoys the same experience regardless of sexuality.
2. To create a safe, engaging space for colleagues to build new friendships, take part in events and social activities
*LGBTQIA+ stands for: Lesbian, Gay, Bisexual, Transgender, Queer/Questioning, Intersex, Asexual and Gender Identities that are not already present.
Webinars
BITC Trans Inclusion - Allyship webinar - click here
Unconscious Bias Training
Unconscious bias within the Society can influence decisions in recruitment, promotion, colleague development and recognition and can lead to a less diverse workforce. Without unconscious bias, training colleagues can overlook talented workers and instead favour those who share their own characteristics or views. Equally, if Unconscious bias, is left unchecked, it can turn to discrimination. We all have unconscious biases and by providing awareness training, colleagues are given the opportunity to learn more about it. It also teaches them how to recognise them and how to combat them in daily decision-making.
The Society has put measures in place that include unconscious bias training for the central recruitment team, unconscious bias training specifically from a comms and marketing perspective for our communications team and from May 2021 all line managers will complete a mandatory 'Let's talk about Race' session aimed to educate and enable managers to feel comfortable in having conversations about race. In addition, a general Unconscious bias eLearning module is available for all line managers to complete, and we continue to raise awareness of the subject through our colleague communications
Race at Work Charter
The Society is now a signatory of Business In the Community's Race at Work Charter. BITC's Race at Work Charter provides a framework for employers to take practical steps to ensure their workplaces are tackling barriers that ethnic minority people face in in the workplace.
It asks employers to commit to five calls to actions to ensure that ethnic minority employees are represented at all levels and that their organisations reflect British society today. These are;
Appoint an Executive Sponsor for Race
Executive Sponsors for Race provide visible leadership on race and ethnicity in their organisation and can drive key actions such as setting targets for ethnic minority representation, briefing recruitment agencies and supporting mentoring and sponsorship. The Society's Executive sponsor is Pete Westall, Chief Values Officer.
Capture Ethnicity Data & Publicise Progress
Capturing ethnicity data is important for establishing a baseline and measuring progress. It is also a crucial step towards an organisation being able to report on ethnicity pay differentials.
Commit at Board Level to Zero Tolerance of Harassment & Bullying
The Race at Work Survey revealed that 25 per cent of ethnic minority employees reported that they had witnessed or experienced racial harassment or bullying from managers. Commitment from the top is needed to achieve change.
Make Clear That Supporting Equality in the Workplace Is the Responsibility of All Leaders & Managers
Actions can include ensuring that performance objectives for leaders and managers cover their responsibilities to support fairness for all staff.
Take Action That Supports Ethnic Minority Career Progression
Actions can include embedding mentoring, reverse mentoring and sponsorship in their organisations.
Disability Confident Status
What does it mean:
Disability Confident is a government scheme that is designed to help the Society recruit and retain disabled people and people with health conditions for their skills and talent. Being a Disability Confident employer could help to discover someone in our business that we just can't do without.
The Society completed a self-assessment that was grouped into two themes:
Theme 1 – Getting the right people for your business
Theme 2 – Keeping and developing your people
During the assessment, we confirmed that we:
have undertaken and successfully completed the Disability Confident Employer self-assessment

are taking all of the core actions to be a Disability Confident Employer

are offering at least one activity to get the right people for your business and at least one activity to keep and develop your people
Female Progression
As part of the ongoing work around Diversity and Inclusion and having reviewed the Society's data particularly around women progressing into senior positions the data is indicating that women are not progressing as at the same rate as men from a level 5 position.
To gain more insight to this we have recently surveyed our level 5 female retail colleagues to establish potential barriers to progression. We will be creating a working group to review this in more detail, pilot initiatives and then look to roll put best practice across other areas of the Society.
Men in Childcare
We have an aspiration to increase our male workforce in childcare from 2% - 20% by 2025 – watch this space for more updates on how we plan to achieve this!
Schools Activity
We will be developing a programme to attract young people from ethnic minority backgrounds into the Society via high schools and colleges
Ethnicity Pay Gap
In the next couple of years, ethnicity pay reporting will become mandatory within the UK for businesses with over 250 employees. We are in the process of collating data to report on this so we can understand what long-term, meaningful actions we need to take to tackle race inequality in the workplace and ultimately improving how we attract, hire and promote colleagues from ethnic minority backgrounds.
D&I Training for All
Let's Talk about Race
From May 2020 through to May 2021 every line manager across the Society will be asked to complete a 'Let's talk about Race' training session. These sessions are designed to enable our Managers to be more equipped to speak about race:
They will understand race representation in their own demographic area

They will be comfortable leading conversations in the area
D&I Policy
Please click here to view the Society's Diversity and Inclusion policy.
i.Learn Resources
Within our i.Learn system you can access a number of resources including a variety of e-learning courses compliance training, self-development learning zone, and book on face-to-face courses.
Click here to sign in to i.Learn
5 Ways to Wellbeing
Here at Midcounties, we want to support our Colleagues wellbeing, and this includes their mental health. We know that for some of us, talking about our mental health can be an uncomfortable chat. However, with research suggesting that 1 in 4 of us will experience a mental health issue every year and that 17% of us are living with a serious mental health concern – it's time we started talking more about how we're feeling.
To find out more about the support we offer, please click here.
Helpline Numbers
Employee Assistance Programme – 08088 021 122

Tel MIND – 0300 123 3393

Text MIND – 86463

Tel Samaritans – 116 123
Wellbeing Passport
The main purpose of the Wellbeing Passport is to support colleagues with a disability or health condition in the workplace. The passport has three main functions:
To support a conversation between a colleague and their line manager about the reason for needing adjustments which could be due to a disability, health condition or gender reassignment and to discuss any workplace adjustments that might need to be made.

To act as a record of that conversation and of the adjustments agreed.

To act as a record of any adjustment made for individuals as supportive measures.
To access your Wellbeing Passport, please click here.
To view our guidance on your Wellbeing Passport, please click here.
Gender Pay Gap Report
Click here to view the Society's latest Gender Pay Gap Report.
Latest Updates & Events
Click on the links below to find out more about what we've been up to...