Your Regional Communities
At Your Co-op it's all about supporting the local community – it's at the heart of everything we do.
Owned by our members, who guide us in our decision-making and help us to understand what local communities really need and together we work to achieve that.
You, our remarkable colleagues are key to the success of our Regional Community focus and we know how important it is to you to have all the information you need in one place so we have created this page to enable you to have access to all the key information, so that you can easily reference and refresh as you need to.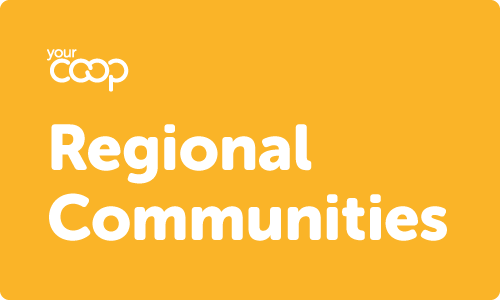 Our Strategy for 2023/24
Our new community framework (so what we do and how we deliver it) will launch from 1st July 2023, so here is everything you need to know. Don't worry we aren't changing everything – but we will be taking a more focused approach to maximise impact:
We want all our colleagues in every site to be fully engaged in the work of their Regional Community, so here we have an overview of the commitment we are making to support the success of this… Every Regional Community will have:
Don't worry – there are some things that we won't be changing, as we know just how important they are to you……
you will still be seeing –
Find out if you work at one of our sites In a regional community area by clicking here.
Find out about YOUR regional community by taking a look at the information guides, these guides tell you everything you need to know from who the community partners are that we work with in the area to what the correct PLU code is to bank your fundraising money:
Check out who our current fundraising partners are in each Regional Community by clicking here. You can also find out more about how the agreement to work with these fundraising partners works by clicking here.
Find out more about how the legacy partnerships work by clicking on the following links:
Think you may be interested in joining the Regional Community Steering Group? Then take a look a the profiles for each of the five key roles in the team by clicking on the links below. If you would like to chat further about opportunities to join your local team then contact the community team at yourcoop.community@midcounties.coop
Have a question? Then check out our FAQ/Hints and Tips Guide by clicking here. This will give you info on everything from how to find out about our grants programme to helping a local group to get a collection slot in one of our larger Food Markets.
Contact us at yourcoop.community@midcounties.coop with any further questions