My Pay
As a colleague, you'll be paid every 4 weeks, which means there are 13 pay dates in a year. Below are the dates on which payment will be made.
Your payslip will be issued every payday. If you have any queries about your pay, you must raise this with your immediate supervisor or manager, who will check the information submitted for you and if necessary, contact the Payroll Department on your behalf.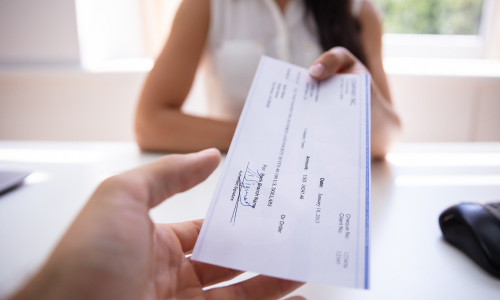 How to view your payslip
You can view your payslip via an online portal. This portal is accessible both in and outside of the Society network so that you can have visibility of your payslip at any time. You can either watch the video above or read the user guide for information on how to view your payslip.
If your employment ends with the Society, it will be your responsibility to ensure that you save a copy of your historic pay slips as you will no longer have access to the online portal once your employment with the Society has ended. If you are due payment once you have left the Society, Payroll will send out your final payslip in a paper format to your home address.
Please note that the payslip portal is not compatible with Apple products at this time.
Pay Dates:
• Fri 14th January 2022
• Fri 11th February 2022
• Fri 11th March 2022
• Fri 8th April 2022
• Fri 6th May 2022
• Wed 1st June 2022
• Fri 1st July 2022
• Fri 29th July 2022
• Fri 26th August 2022
• Fri 23rd September 2022
• Fri 21st October 2022
• Fri 18th November 2022
• Fri 16th December 2022
How is my pay calculated?
For the purposes of calculating wages and other payments, our working week is Sunday to Saturday.
For colleagues who started on or before 28/3/2021 your pay is calculated based on the calendar below.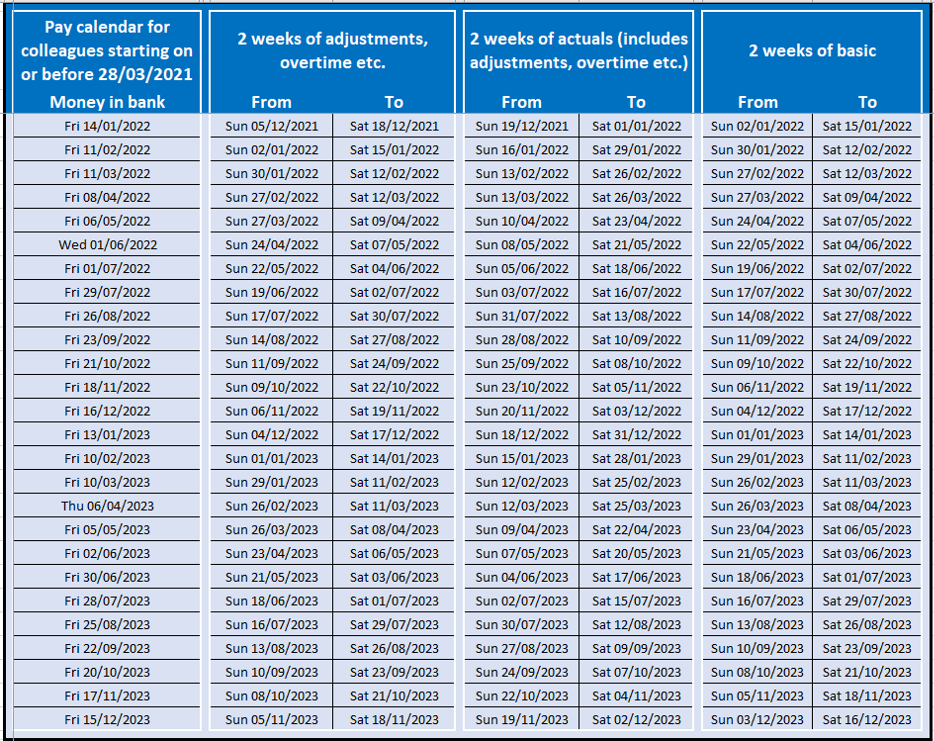 For new starters who started after 28/03/2021 your pay is calculated based on the calendar below.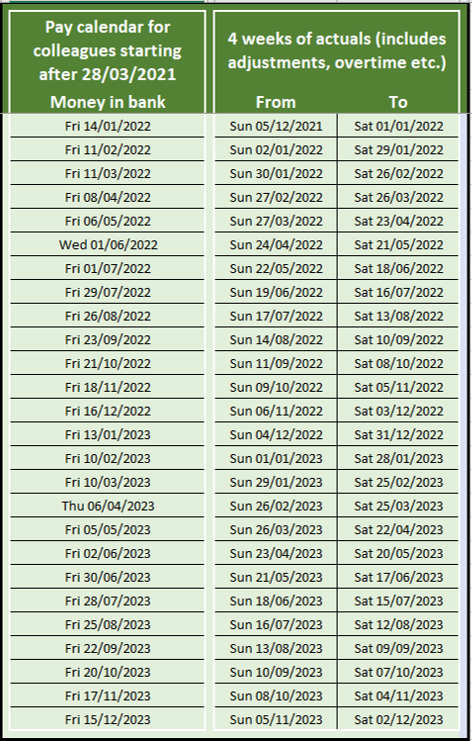 P60 form
Your P60 form confirms your earnings for the previous tax year. They will only be available for colleagues who:
Are employed on 5th April of the relevant tax year and;

Received a payment before the 5th April
Your P60 is an important document and should be kept for a minimum of 3 years, the Society advises 6 years, as HMRC can request this information at any time.
In line with HMRC requirements, your P60 is now available for the tax year 2021-2022. You can access your P60 the same way as your payslip. Simply click into your March 2022 payslip and your P60 form will be displayed.
Job Evaluation Society Wide Information
Career Framework Society Wide Information
Every role in Midcounties has been leveled using a nationally recognised job grading framework. This enables us to 'size' roles against other employers and ensures that we can benchmark our salaries. As with most businesses the pay bands for each level are broad as they have to accommodate a number of different roles from a diverse set of industries.
Our Society is a family of diverse trading groups, each with its own history but with a shared value set of democracy, openness, equality, and social responsibility. This means that whilst our trading groups have evolved their terms and conditions, pay, benefits and incentives in different ways over time it is really important that we establish a way of ensuring that reward is fair, regardless of the role you hold.
We want to ensure that Midcounties continues to be an attractive place to work and that our remuneration package underpins this. We also want to provide our colleagues with visibility of the career opportunities that may be available to them at the different levels and within the different departments within our Society.
We launched the Career Framework using the Korn Ferry Hay job evaluation methodology which is the most consistent and widely used and accepted technique in the world today.
What is job evaluation?
Job evaluation is a systematic process for ranking jobs logically and fairly by comparing job against job. It allows the Society to compare the relative size of roles and assists in creating a fair pay structure to ensure that roles of a similar size are paid at a similar level.
Job evaluation is undertaken by appointed individuals who have been trained.
The Pay Structure will help managers make effective decisions on pay for their colleagues, whilst also ensuring that salaries are fair, consistent, and non-discriminatory.
Role scores are checked vertically and horizontally and are compared to both less and more senior roles by job type. They are also compared to similar roles across the Society to ensure consistency.
Job evaluation focuses on the job itself, not on the colleague undertaking the role, and is an analytical tool that compares a range of factors such as Know How, Problem Solving and Accountability.
Salaries are compared with similar roles within the UK employment market using reliable sources of external salary data to ensure we are paying an appropriate salary to attract and retain employees.
An up-to-date and meaningful role profile, alongside a current organisation chart, is key to ensuring that those carrying out the evaluation understand the role in question.
Have all roles been evaluated?
All roles have been evaluated and put into the career framework.

All roles evolve and business areas restructure and there is a continual process to evaluate new and roles and amend changing roles based on the most current job descriptions and organisation charts.
How is the salary structure created?
Evaluated roles are grouped together with those of a similar size into a pay band.

The ranking of roles is then validated with senior managers to ensure that it is fair and logical.

All benchmarked roles have been compared against external market data.

All this allows us to ensure that our career framework pay bands are reflective of salaries within the external market for organisations at the same or a similar size to us.

Roles are benchmarked against the Market data and pay is reviewed against the data.
How many pay bands are there?
There are 12 levels within the career framework and therefore 12 pay bands in the salary structure. The career framework pay bands are fairly wide, encompassing a range of roles and salary levels, and overlap with the bands above and below them to allow for flexibility in rewarding performance and setting pay for promotions.

Colleagues will be informed of their position within the career framework pay bands during the annual Pay Review process.

Colleagues should discuss any concerns with the allocated career framework level for their role with their line manager in the first instance.

There would need to be a significant increase in the requirements or duties of the current role for the role to be considered for re-evaluation. Significant increase examples include; change in the level of influence and communication, complexity of problem-solving, financial accountability.
Will the Career Framework pay bands change each year?
The pay bands will be reviewed in relation to external market data at least annually, usually prior to the annual pay review process.

Line managers will be informed of any revisions to the pay bands and the relative position of their colleagues within the relevant pay band prior to the annual pay review process.

It is also worth noting that pay bands are also impacted by the overall size of the Society e.g. if our sales significantly reduced for a prolonged period we would need to start to compare ourselves to other smaller businesses to ensure we get a like for like comparison. The reverse if also true. Using a global grading framework enables us to ensure that wherever possible we are comparing ourselves appropriately and getting value for our members.
Click here to access the updated Pay Policy
Career Framework Society Wide Salary Ranges
Level

Minimum

Mid-point

Maximum

1

Used for Traineeship and Apprentice roles

2

£14,350

£17,938

£21,525

3

£15,580

£19,475

£23,370

4

£17,938

£23,985

£28,782

5

£19,475

£25,963

£32,493

6

£25,625

£34,163

£43,050

7

£36,900

£51,250

£55,350

8

£53,300

£66,625

£79,950

9

£69,700

£87,125

£104,550

10

Spot Salaries

Spot Salaries

Spot Salaries

11

Spot Salaries

Spot Salaries

Spot Salaries

12

Spot Salary

Spot Salary

Spot Salary
Job Evaluation Society Wide Information for Managers
The following information is private and restricted to managers. Please sign in to reveal content and scroll back down to this box
Sign in
Managers
Some information on this page is private. Sign in to view:
Deadlines and Key Tasks to Ensure an Accurate Payroll
Sign in