LGBT+ History Month - Body, Mind & Spirit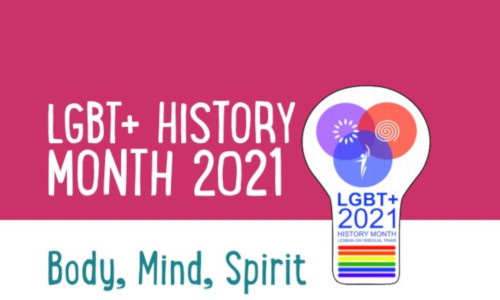 This article will take approximately 2 minutes to read
Published 9 Feb 2021 in Raising Awareness
Have you ever seen the iconic rainbow flag 🌈 anywhere? If you didn't know, it's the symbol of LGBT+ and every February is the historical celebration of the movement taking place.
A month-long observance of lesbian, gay, bisexual and transgender (LGBT) history, the month also includes the history of the gay rights and related civil rights movements over the years. Founded in 1994 by Missouri high-school history teacher Rodney Wilson. LGBT+ History Month provides role models, builds community, and represents a civil rights statement about the contributions of the LGBTQ+ community.
How can I raise awareness amongst my team?
Why not print off the voices and visibility wallchart and display in your colleague areas. The Wallchart has been produced by the Forum for Sexual Orientation and Gender Identity Equality in Further and Higher Education by a group of trade unions in association with Lesbian, Gay, Bisexual and Trans (LGBT+) History Month.
Click Here to download the wallchart.
The aim has been to produce a resource that supports those raising awareness of sexual orientation and gender identity, equality and diversity.
Centred on the United Kingdom, it highlights important legal milestones and identifies visible and significant contributions made by individuals, groups and particularly the labour movement.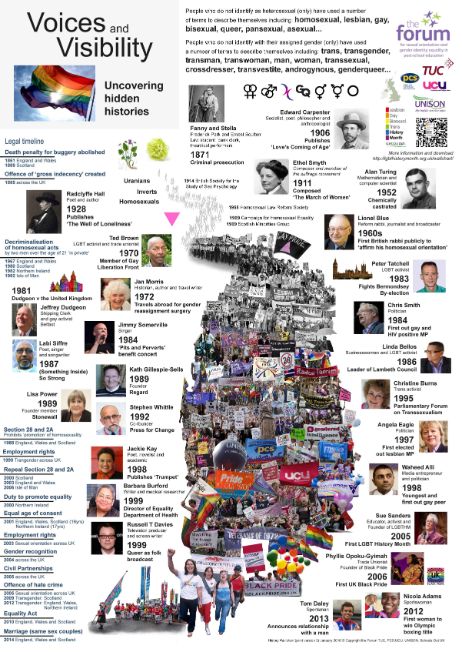 The LGBT+ community is made up of people with various identities. Below are some definitions with the sexualities and gender identities that explain a few statements, can you name them?
Take the Quiz! Do you know the Definitions of LGBT+? Answers below...
A man who is attracted to other men. Sometimes the word is used by women who are attracted to women too, so we can say this word means a person who is attracted to other people of the same gender.

A person who fights for, and supports others in their fight for equality, despite not being a member of the marginalised group, e.g. a heterosexual and/or cisgender person who believes in, and fights for equality, for LGBT+ people.

Historically this word was used as a negative insult, however many people feel they have reclaimed the word to have a positive meaning. Some people use it as a collective term for LGBT+ people, and some use it to explain their gender, sexual or political identity. Some people still use this word as an insult, this is LGBT phobia and should be challenged.

A person whose gender identity is in some way different to the gender they were assigned at birth.

A person of any gender or sexual orientation who experiences little, or no, sexual attraction. They may still experience other types of attraction, such as physical or romantic attraction.

A person who is attracted to people of a different gender, e.g. a man who is only attracted to women.

A person is assigned this term, often at birth, when their sex characteristics don't align with the medical definitions of "female" or "male". A person's external and internal body, as well as chromosomes and hormones, can all be factors when assigning sex.

A person of any gender who experiences attraction to people of their own gender, and other genders.

A woman who is attracted to other women.

An umbrella term for gender identities which are not confined by the gender binary of "women" and "men". These people may identify with no gender at all or with more than one gender.

A person of any gender who is attracted to people of all genders.

A person whose gender is the same or mostly the same as they were assigned at birth.
LGBT+ Definition Answers
Gay

Ally

Queer

Trans/Transgender

Asexual

Straight

Intersex

Bisexual

Lesbian

Non-binary

Pansexual

Cis/Cisgender
British LGBT+ Sportspeople - Did you know?
A greater proportion of LGBT+ people do not partake in sports compared to their non-LGBT+ peers; this may be because there continue to be high levels of LGBTphobia in sport, so LGBT+ people do not feel welcome, safe or respected.
Last year the Premier League came together to show support for LGBT+ people. Across two match weeks, players wore rainbow laces and captains wore rainbow armbands as well as ball plinth, handshake boards and substitute boards all featuring a rainbow design.
Take a look at some of the British sportspeople below who have influenced LGBT+
Nicola Adams (26th October 1982 - )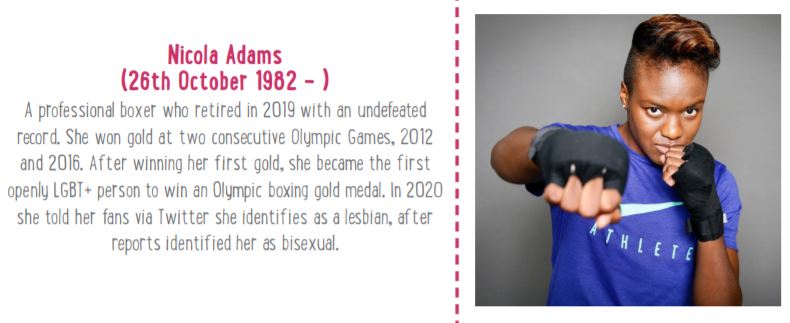 John Curry (9th September 1949 - 15 April 1994)

Kate Richardson-Walsh (9th May 1980 - )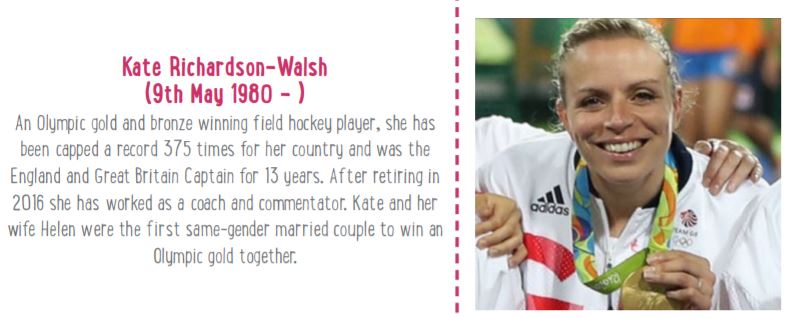 Graeme Obree (11th September 1965 - )

Sir Lee Pearson (4th February 1974 - )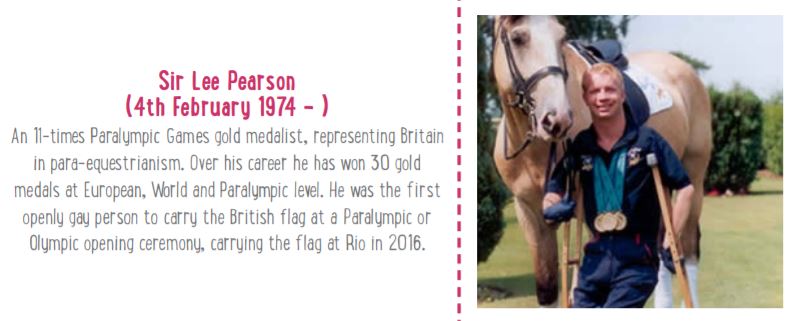 Lily Parr (26th April 1905 – 24th May 1978)

Hope Powell (8th December 1966 - )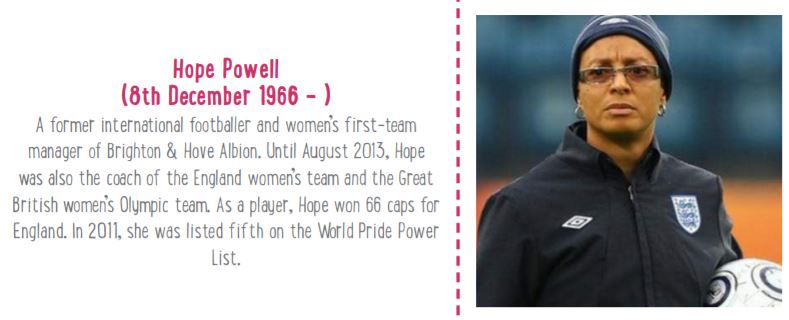 Mark Weston (30th March 1905 – 29th January 1978)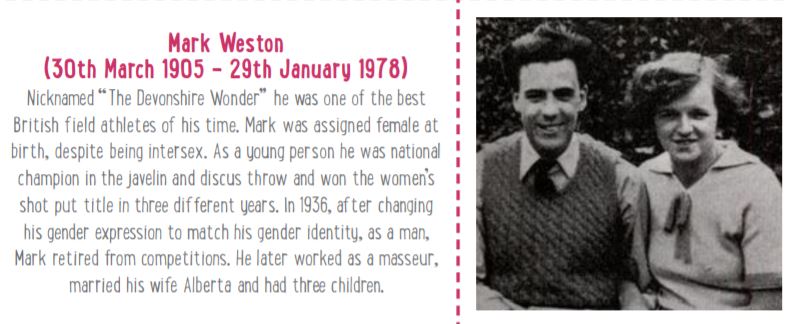 Colin Jackson (18th February 1967 - )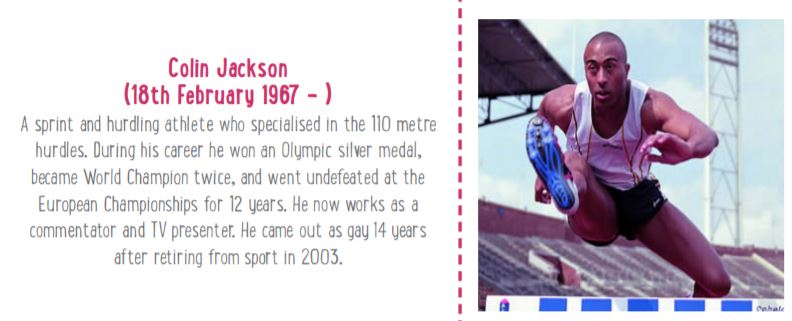 Spread the message!
- Don't forget to print off the wallchart here and display in your site.
- For you quizmasters, take part in the short quiz above to learn about LGBT+ and help raise awareness during history month.