Meet our Young Co-operator & MEC Member - Rhys Fallon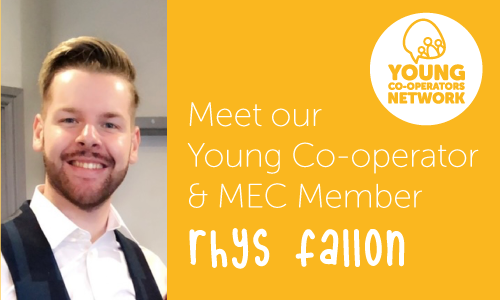 This article will take approximately 2 minutes to read
Published 26 Nov 2020 in Raising Awareness
Hi there, my name is Rhys Fallon. Today I'm going to use my space to discuss how being on our Member Engagement Committee (MEC) is an amazing opportunity for young people to help shape the future of our Society. I am also a member of the Young Co-operators Network, which gives me the chance to influence how we do things within the Society.
A little about me:
I currently work at the Midcounties Co-op Sutton Road Food store as a Team Manager. I have been with the Society for around 10 months now and before this, I completed a managerial apprenticeship. The apprenticeship taught me so much on developing my customer service and management skills. With hard work and determination, I hope to progress to a store manager one day and with the Society's help, I believe I can get there. I enjoy working in the retail sector because I can speak and engage with both our customers and members, ultimately allowing me to understand what the members want and how we could improve our service. This is one of the main reasons why I joined the MEC.
You mentioned the MEC, what is it?
The MEC is the Members Engagement Committee; focused on doing the best for members and how we can increase membership. As well as making sure everyone has a voice and feels heard, it exists because we all have different opinions and views on certain aspects.

What made you join the MEC and what impacts do you want to have?
I'd never really heard of the MEC until I had to stand in for one of the meetings which I found very interesting. Even though I was talking to people I'd never spoken to or even met before I felt very comfortable along with a voice to be heard. It was interesting to hear other people's views on different topics. When I was talking, the other committee members were listening and it felt as though I could make a change. I think the biggest impact I want to have is to try and build on increasing the number of young people becoming members of the Co-op as they are the next generation. I can also help as I currently work in a Food store and see our members on a day to day basis.
Why do you think it is important for young people's opinions to be heard and acted upon?
I think it's important for young people to be heard because they are the next generation and they are going to have to live with the changes and development of the modern world. I believe that if young people feel heard they are more likely to get involved with membership and join the Co-operative because they know they will be taken seriously. It's important for views to be acted upon so they know we are listening to them and are able to do something about their views and opinions.
If you enjoyed my Q&A or want to know more information let me know below. You can join our Young Co-operators Network Facebook Group here or if you have any questions, please email YCN@midcounties.coop.