Turkey-Syria Earthquake Appeal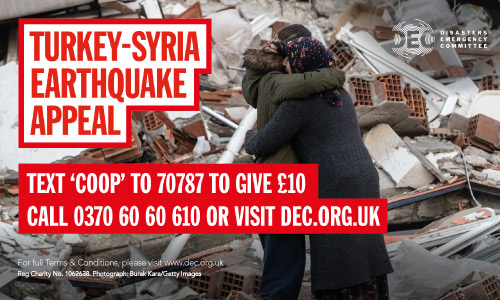 This article will take approximately 1 minute to read
Published 9 Feb 2023 in Fundraising
Devastating earthquakes have hit Turkey and Syria this week killing more than 28,000 people. Buildings and infrastructure have been destroyed leaving survivors facing freezing conditions. The people there need help now.
People have been left without shelter in freezing winter conditions, with humanitarian needs expected to grow in the coming days. Access to clean water will likely be a challenge, bringing the risk of cholera and other diseases.
At Midcounties, we're proud to join co-operatives from across the movement in support of the Disasters Emergency Committee (DEC)'s Turkey-Syria Appeal.
DEC charities and their local partners are responding, working with locally-led relief efforts. Immediate priorities are search and rescue, medical treatment for the injured, shelter for those who have lost their homes, heaters for safe spaces and winter kits with blankets, and warm clothes, as well as ensuring people have food and clean water.
If you are able to support this appeal you can donate in the following ways:
Donate in Your Co-op Food stores at the till

Text 'COOP' to 70787 to donate £10 (plus standard network rate)

Call 0370 60 60 610
The UK Government will also match donations from the public, pound-for-pound, up to £5 million. This support will double the impact of donations and will ensure that charities working on the ground can reach those in urgent need.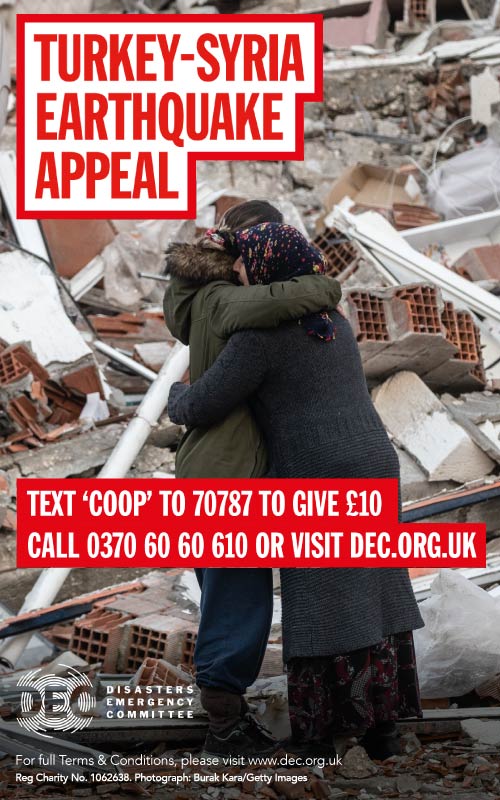 Why the DEC Appeal?
The International Co-operative Working Group (ICWG) is in touch with co-operatives and co-operative organisations on the ground in Turkey and Syria. This is to explore what support we might be able to offer in addition to the DEC Appeal. Like with SEWA in India, this is a powerful way for the movement to respond to these events, but it will take longer to understand what follow-up support might be needed.