Your Time To Focus On You – Upcoming Sessions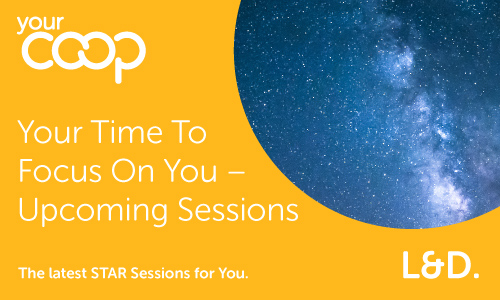 This article will take approximately 1 minute to read
Published 14 Sep 2021 in Colleagues
Your Learning and Development (L&D) team are committed to providing you with the opportunity to develop yourself both personally and professionally. So as we gear up for the second round of STAR Sessions, why not focus on you and take part in some of the sessions below on i.Learn?

Book your STAR Session today - Sessions can be booked via i.Learn here.
What are STAR Sessions? ⭐
STAR Sessions are highly interactive and packed with hints, tips, tools and techniques. These sessions are fast paced, each 60-minute bite-sized session quickly cuts to the chase to deliver a focused learning experience enabling you to take away four or five ideas to put immediately into action. With a range of topics on offer we are sure there is something for everyone.
The latest STAR Sessions for You 💡
The below sessions are available to book on i.Learn now:
Dealing With Work Pressures – 15th September at 11am

Develop Your Resilience – 5th October at 10am

Building Successful Relationships – 19th October at 10am

Getting Results Through Others – 24th November at 10am

Personal Impact – 20th January at 1pm