Achieving the 100,000th Home Delivery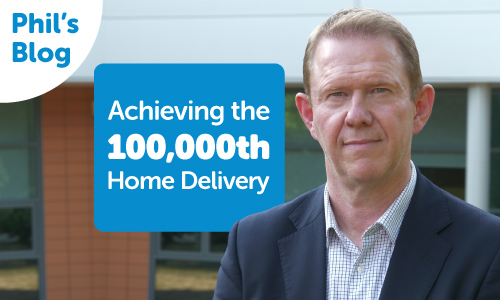 This article will take approximately 4 minutes to read
Published 15 Jan 2021 in Phil's blog
This week we have heard from the Government calling for greater compliance to help curb the rise in Covid-19 cases and seen a strong media focus on compliance in supermarkets.
As I mentioned last week, I believe that we were well placed as we entered the third national lockdown with measures in place across our businesses to make our customers feel as safe as possible.
Our approach within our Food stores is consistent with that of the Association of Convenience Stores (ACS) as well as the trade union and reflects the government guidelines. We are using point of sale to remind customers to wear face coverings, making them available to purchase at the door and have measures in place to help manage customer numbers and movement around stores.
Colleague safety remains a high priority and we have adequate stocks of Personal Protection Equipment in stock, including face masks. Where required we have tightened up policies and procedures, including the wearing of face coverings in back areas in Food stores. I would like to remind all colleagues to keep up to date by using Colleagues Connect and the Coronavirus information centre which you can access here.
A milestone achievement with the 100,000th Home Delivery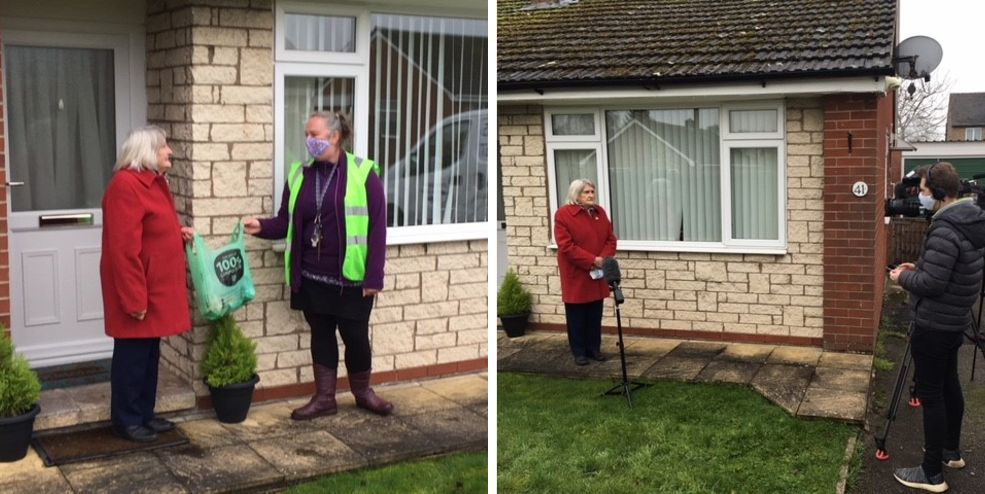 [Left - Mrs Langdown with Home Delivery Volunteer, Helen. Right - Local media filming during the delivery]
Today we reached the momentous achievement of 100,000 Home Deliveries. The 100,000th delivery was made to Mrs Langdown by a volunteer, Helen, who is the local florist.
Located in Wem, Shropshire, Mrs Langdown is an 86-year-old lady who suffers from Chronic obstructive pulmonary disease (COPD) and thyroid disease so has had to shield since the beginning of the pandemic in March.
Wem Food store has made more than 3,000 deliveries and Helen has played a significant part by delivering over half of these, which is amazing. News of the achievement has attracted local media attention with an ITV crew being there to capture the moment and will be reported on ITV news in the coming days.
Mrs Langdown is just one of the thousands of members who we have supported since last year and the process would not even be possible without selfless volunteers like Helen.
To go from a standing start to 100,000 home deliveries in just ten months is a remarkable achievement and I know this service has been a lifeline for our members and communities. I'm so proud of all our colleagues and community volunteers who have been there for them.
Members Helping Members
Our members continue to step up and through our recent Food Bank fund they have raised an incredible £11K. Helping to feed the most vulnerable members in our communities, the funds will now be distributed directly to our existing 60 food bank partners across the Society.
Earlier in December, we joined our fellow societies to help support the NHS Togethers charities campaign. You might remember this was the same charity that Sir Captain Tom Moore raised his brilliant £32 Million for and helps frontline NHS staff when they are at their most vulnerable. This could include providing hot meals and a place to rest for staff working long hours or specialised psychological support for those struggling with stress, trauma and separation from their loved ones.
I can now reveal collectively we have raised over £50k for the charity alongside other co-ops. Within Midcounties, we raised a fantastic total of £11,600 from the sale of festive bouquets in our stores, with £1 from each sale donated to the campaign.
Community Funding opening

More than ever, during this difficult time we continue to support groups and charities through our Community Funding activity. On Monday we will be opening the next round of community grants and so if you know of a group that would benefit from a grant of up to £2,000 please do encourage them to apply. Look out for more details.
Colleague Pulse Survey

Finally, today we opened our latest Colleague Pulse Survey. I would encourage you to take part as it's important that we hear from as many of you as possible so that we get a broad view of what matters to colleagues, which will help with future planning and decision making.
The survey is less than 10 questions long and only takes a few minutes to complete with anyone doing so, being entered into a prize draw to win one of five £20 store vouchers.
If you are not signed into Colleagues Connect already, this link will ask you to do so first.
You can complete this round's pulse survey here.
If you enjoyed this week's blog, why not give it a 'Like' above or leave a comment below.