Colleagues help raise over £83,000 for our Fundraising Partners!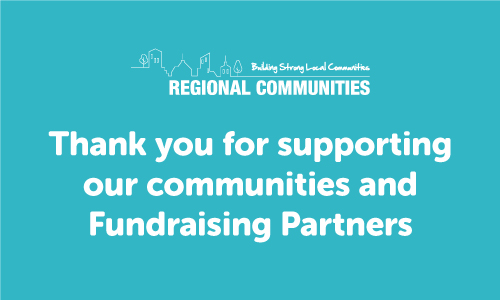 This article will take approximately 1 minute to read
Published 29 Apr 2021 in Communities
In spite of the significant barriers that we have all faced in terms of being able to fundraise over the past 12 months, today we can announce we have raised over £83,000 in support of our 23 Regional Community Charities, 39 Keep it Local Partners and our two Society Partners Mind & Seaful.
This is all down to you, our dedicated colleagues, who passionately support charity partners in times of need. 👏

Showcasing our Values in Action, over £63,000 was given to our Charity Partners with an additional £20,000 (£10,000 each for Mind and Seaful). In total an incredible £83,000!
As a thank you, they sent us a few personal video messages for our colleagues below 👏:
Along with many more thank you messages below, well done to our colleagues and Regional Communities who have supported them over a challenging year. 😊
What an incredibly fantastic bit of news it was to receive your email informing us that we have yet another fantastic donation! Can I say again on behalf of everyone at Wolverhampton Alz Café a massive thank you to everyone at the Midcounties Co-op who have done so much to raise these funds and through such difficult times. We are again overwhelmed.
Julie Grainger – Alz Café (Wolverhampton Regional Community)
Your help and support make an enormous difference to our group, and with Midcounties Co-op being local it makes the support particularly meaningful, as it is the local community helping local people.
Jo Barrow – Forget me Not (Bicester Regional Community)
JST are over the moon with this funding and we have plans to put some of the money towards World Earth Day which was on 22/04/2021. Our plans are to purchase and distribute plants, seeds, sustainable plant pots, compost, litter picks which are all ways to promote and encourage people to grow their own vegetables at home and create a clean and safe environment. JST are also organising a local litter pick for the community to get involved in .
In the current circumstances, JST has supported individuals and families who have been in crisis and affected by fuel poverty. This money will also go towards emergency food, gas and electricity and those who are in need.
Stacey Rollinson – Just Straight Talk (Sedgley Regional Community)
We are incredibly grateful to Midcounties Co-op and the entire team from the Forest of Dean Regional Community for putting so much energy and effort into fundraising for us even in very tough circumstances. The money raised will enable us to continue to support young carers aged between 8-24 with 1-2-1 support, respite sessions where they can meet other young carers and enjoy fun activities, trips and residentials where they can take a break and support and advise in school or college.
Sally Gillespie – Gloucestershire Young Carers (Forest of Dean Regional Community)
A huge thank you to all at Midcounties Co-op for the latest funding you have raised for usn- you are all wonderful. Continuing to think of us and actively raise funds during the most difficult of years.
Our families know how much you do for us and we confirm this latest funding will be used to ensure our core service continues uninterrupted in the coming months, ensuring no family in The Wyre Forest is without the support and befriending they need to avoid crisis and family breakdown.
Belinda Darby - Manager, Home-Start Wyre Forest (Wyre Forest Regional Community)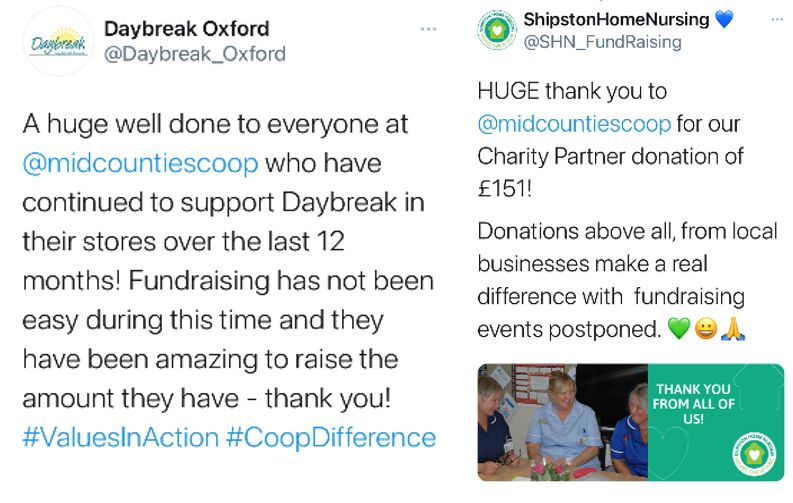 Supporting our communities and members is at the heart of what we do at Midcounties, and always will be.