Learning & Development: Your Opportunities to Develop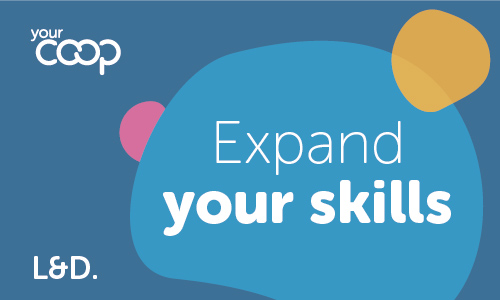 This article will take approximately 2 minutes to read
Published 26 Sep 2023 in Colleagues
Welcome to September's update from the Learning & Development team. Claire McCarthy, Leadership and Career Solutions Lead, tells us a little more about our Graduates and the L&D opportunities for our colleagues.
We'd like to say a huge well done to our colleagues who have completed their apprenticeships over the past few months: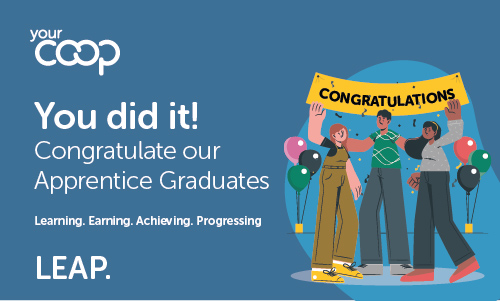 Bruna Dinis, from our Littlehampton Nursery, achieved a Pass in their Early Years Educator Level 3

Tahsin Miah, Management Accountant at our Warwick Office, achieved a Pass in their Level 7 Accountancy and Taxation Professional Apprenticeship (ACCA)

Matthew Mitchell, Store Manager at our Bicton Heath Food Store, achieved a Distinction in his Retail Manager Level 4

Jake Groom, from our Wem Food Store, achieved a Pass in his Retail Team Leader Level 3

Sallie Griffiths, from our Knighton Food Store, achieved a Pass in her Retail Team Leader Level 3
I'm sure you'll all join us in congratulating these colleagues on this fantastic achievement. We'd like to wish you lots of luck in your future career with Midcounties!
Hear from a colleague who took the LEAP!
Jack Ford, Supply Chain Assistant Analyst at our Warwick Office, tells us why he chose to complete his Supply Chain Practitioner Level 3 Apprenticeship.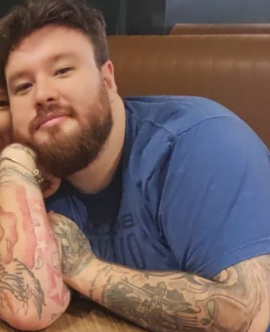 After 2 years working in Supply Chain as an Administrator, I was promoted to Assistant Availability Analyst in the Fresh team. After I achieved this promotion, I decided to research apprenticeships and found the Supply Chain Practitioner Level 3 Apprenticeship. It had exactly what I was after; learning about the end to end characteristics of a supply chain, the principles of continuous improvement, project management skills and, leadership and management development.
Overall my Apprenticeship was tough. The landscape of learning drastically changed after Covid 19, which unfortunately removed the classroom based learning in favour of online teaching, which albeit was good, was less engaging than that of a classroom environment. I was determined to pass for myself and my own Midcounties career, but also for my boys, particularly my eldest (who thought I was too old to go to school!). I had my final assessment on 18th July 2023, after 3 years of essays, assignments, lessons, and countless YouTube videos, passing my Apprenticeship with a Distinction!
The Apprenticeship has been hugely beneficial for me and my role. It has not only given me a boost in confidence, but it has also provided me with a variety of problem solving, analytical and critical thinking techniques to help support me in my role. Not only this, it also drastically altered my mindset on how to manage myself, enabling me to approach problems in a more positive manner.
If you are in a position to do an Apprenticeship I would say do it! It can be tough, and it can be long, but most things in life that are worth doing usually are!
Managers Club
Don't forget – our next Managers Club is on Thursday 5th October from 11.00am-12.00pm.
Our Managers Club is designed to be your own personal space for growth and development – facilitated by us but owned by you! Maybe you want to explore different feedback models to use with your teams? Or want suggestions on how to motivate your team and boost engagement? Or maybe you want to find out more about flexing your communication style to suit different personality types?
These sessions provide a fantastic opportunity for you to connect with fellow managers and gain insights to help take your team from good to great!
Anyone who directly line-manages colleagues or who has some leadership responsibility is able to join these sessions. So, why wait? Click here to book your spot and join us for an enriching Managers Club session!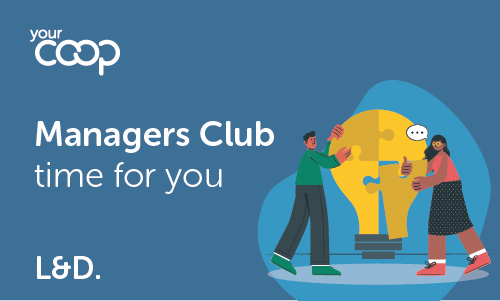 LEAP into a brighter future!
For more information on when the next LEAP cohorts are due to start, please click here and check the 'LEAP & Training Timetable' tab.
If you're thinking about where to go next in your career or you're looking for an opportunity to develop, why not book in a Development Check-in with your line manager?
Discuss your options with them and, who knows, this year you could be taking the LEAP!