Podcast Episode 6 is here – 'Thoughts From Lizzie Hieron'
This article will take approximately 1 minute to read
Published 20 Jul 2021 in Podcasts
The latest 'Thoughts From...' Podcast is live and in this episode, we hear from Lizzie Hieron, Chief Operating Officer for Utilities.
Podcast Episode 6 - Thoughts From Lizzie Hieron – Chief Operating Officer Utilities – Comfy Slippers or New Shoes
In this episode we hear from Lizzie Hieron – Chief Operating Officer Utilities. Lizzie discusses her career story including what has made her move from 'comfy slippers to new shoes' and challenge herself to try new things. Lizzie also talks about how having a family has influenced her decisions and why it is important to admit mistakes and weaknesses and lean on the strengths of your team.
If you are keen to develop yourself, progress your career, or are just interested to know a little bit more about some of our Midcounties Leaders, then listen in to our Thoughts From...
Listen in 🔊
You'll hear some inspirational ideas, great advice and interesting reflections from life inside and outside of Midcounties. With a focus on development, this might just be the boost you need to make a change, continue your development or reflect on your time at Midcounties.
With episodes 30-45 minutes in length. Listen in to learn more about our Midcounties leaders, explore their careers and greatest learnings, as well as uncovering a little bit about their life outside of Midcounties.
So plug us into your car, take us on a walk or just grab a cuppa and listen in, and don't forget to share with other colleagues if you enjoyed it.
Missed the previous Podcast? 🎧
Join Cheryl Tree & guests over the next few months and watch out for more new episodes.
Podcast Episode 1 - Thoughts From Clare Moore – Spinning those plates
Podcast Episode 2 - Thoughts From Pete Westall - Our Values – Our Superpower
Podcast Episode 3 - Thoughts From Raj Patel - One Day or Day One - You Decide
Podcast Episode 4 – Thoughts From Rupert Newman – Chief Retail Officer - Why feedback is critical to success
Podcast Episode 5 – Thoughts From Holly Sawyers – Central Operations Manager in Childcare - Willingness to Learn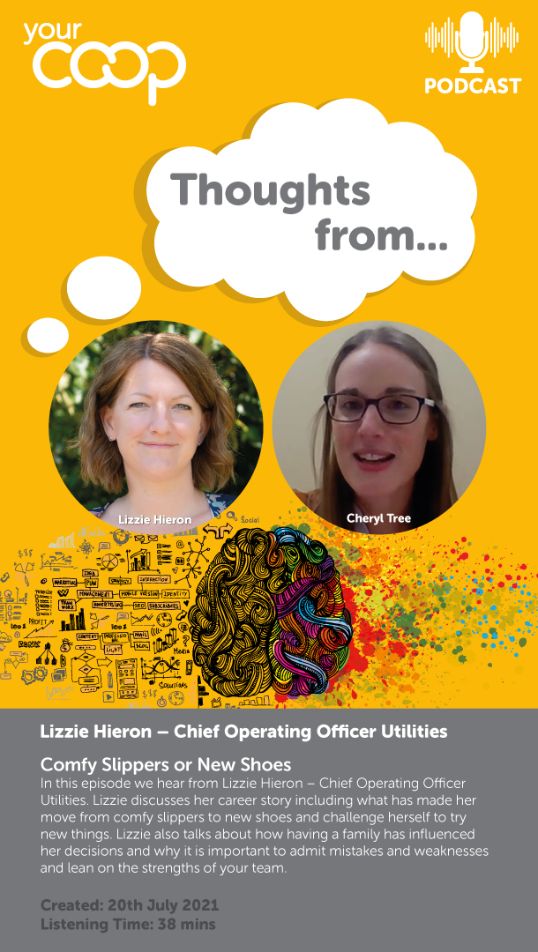 Share your comments & coming next 🎧
As we reach the end of our first 'Thoughts From…' series, watch this space for reflection on the best bits from our series! As always we would love to know your thoughts, what topics you would like us to explore next or who you would like to hear from. Let us know via the comments below.