Protection for Shopworkers, Lydney Launch & Charity Payouts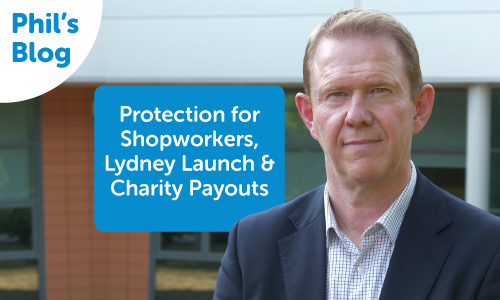 This article will take approximately 4 minutes to read
Published 30 Apr 2021 in Phil's blog
Protecting our colleagues
The protection of our colleagues is something that I am passionate about. Over the past year I have been a strong supporter of the campaign to gain greater protection for shopworkers, including joining others in writing to the Prime Minister last Autumn; ensuring each and every incident is reported to the local MP as well as the Home Secretary and driving awareness of the issue through many channels including the Association of Convenience Stores.
Next week, I will be continuing this call for greater protection by lobbying the Government once again. I will be signing a joint letter with CEOs of other co-operatives and major high street business to the Prime Minister urging the Government to support amendments to the Police, Crime, Sentencing and Courts (PCSC) Bill, which would deliver greater protection for all of our frontline colleagues. This is something that we will also be asking you to support and get involved with by writing to your local MP calling for change. Look out for further details on this next week.
Lydney Petrol Forecourt Launch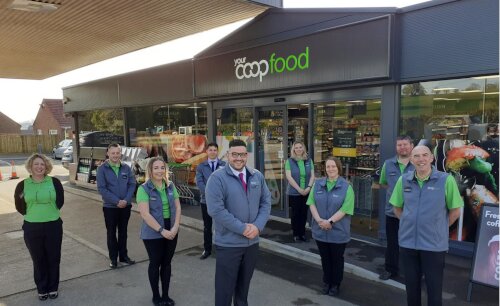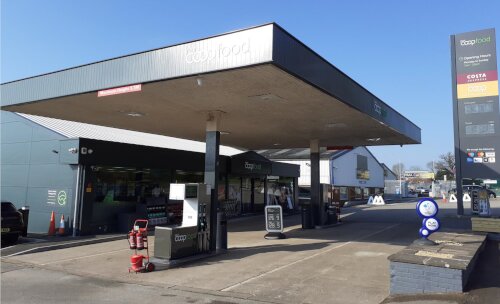 Yesterday saw the successful launch of the new Lydney petrol forecourt and convenience store based in Gloucestershire. The new store has created over 20 new roles in the local Lydney community and is headed up by Store Manager, Sam Webb. This store follows the recent opening of Bishops Cleeve and is part of a series of new site openings with an investment of £3 million. Good luck to Sam and a warm welcome to all the new colleagues at Lydney.
£83,000 Payout to our Charity Partners

Community groups are invaluable to our local areas and I am proud that we support them. The recent announcement that we have paid out over £83,000 to our charity partners and groups is fantastic. These much-needed funds have enabled them to carry on and continue to support the communities that we serve. One of the groups that we have supported is Dementia Action Alliance and having visited dementia-related charities in the past, I know they provide incredible support to people affected by the disease and make a real difference. You can read more on the many charity payouts and hear what it means to them and the people they support here.
Your Co-op AGM & Your Co-op Conversations – Join us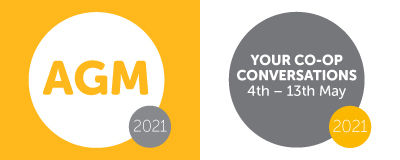 With last week's member launch of the AGM and Your Co-op Conversations, it is encouraging to hear that registrations for the AGM have got off to a great start, if you haven't booked on to join us yet, I would encourage you to do so. As a reminder, the AGM will be taking place on Thursday 13th May 6.30 pm- 8.30 pm. To register for the AGM and join us Click here.
As mentioned last week, this year we also have the Your Co-op Conversations discussion forums running from 4th-13th May. These discussions will give you the chance to hear from our business leaders and guest speakers on a wide range of subjects, some of which I hope will be of interest to you. It would be great if you could join us, encourage other colleagues to come along too and help spread the word to our members. To see the full list of events and book on click here.
Finally, as we look towards the May bank holiday weekend, I reflect on how different it was this time last year. Much of the UK was in enforced lockdown with many of our sites affected and the infancy of our Home Deliveries programme. Now with nearly 50 million vaccinations in the UK given out, it is great to see a reducing infection rate and that the country remains on track with the easing of restrictions.
If you enjoyed this week's blog, why not give it a 'Heart' above or leave a comment below.