Give a Thumbs Up for Team Midcounties #TeamMC
This article will take approximately 1 minute to read
Published 2 Jun 2020 in Things that matter to you

We know that you are doing an incredible job, going above and beyond to help our members, customers and fellow colleagues, whilst adapting to this ever-changing and challenging time.
We want to share your stories of giving a thumbs up with other colleagues to keep morale high and to show that as co-operators we're all in this together as team Midcounties. 'Thumbs Up' is our way of celebrating all your heroic efforts by sharing your great work and giving other colleagues the ability to like it.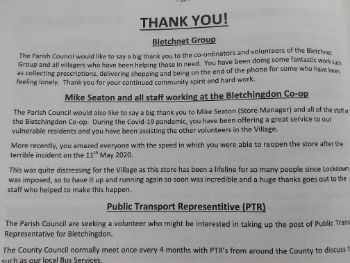 A thank you for Bletchingdon Food store from the local village news 👍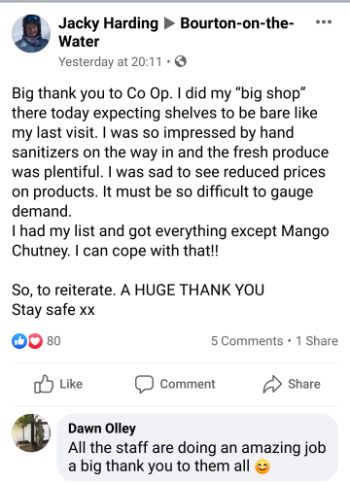 A customer thank you for the Bourton-on-the-water Food store 😊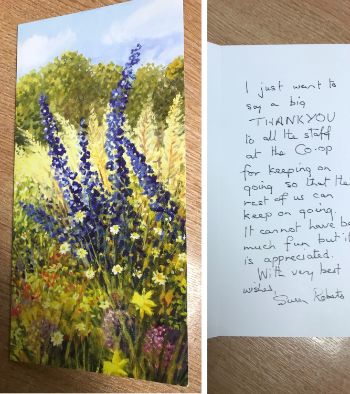 A customer thank you for the Chruch Stretton Food store 🌈👍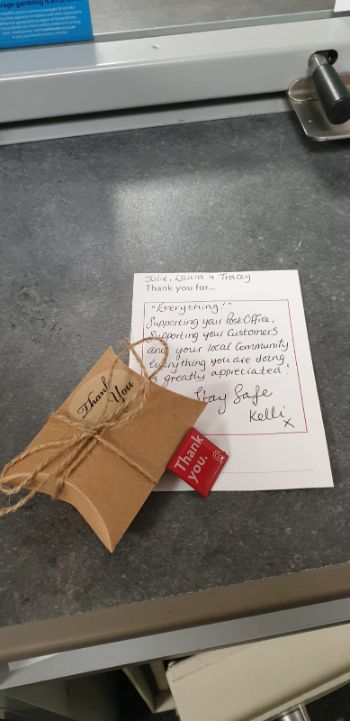 A customer thank you for the Reddicap Heath Post office👍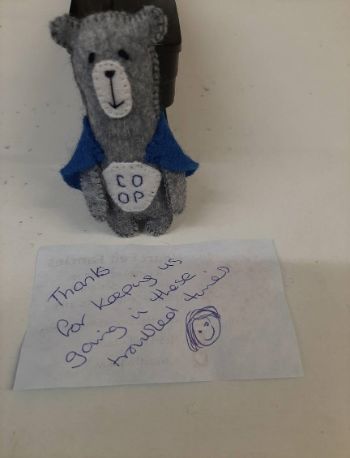 A Co-op teddy for Watling Street Food store 😊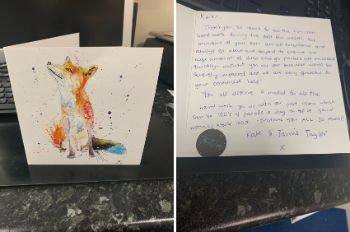 A customer thanks for the Hednesford Post Office 👍

Going the extra mile! Customer comments from our Post Office branches - well done!👍
Amanda from Trench Post Office – Amanda has been supporting Oakengates as they have 3 colleagues isolating. Thank you Amanda, for all of your support.
"Amanda served me with a lovely smile, very friendly and was kind enough to help me with my parcel as it was coming undone. I went into Oakengates last week and she served me there as well, it is nice to see that the girls are supporting each other in this current pandemic."
How you can get involved
We want you to share a picture of yourself and/or your team with your thumbs up and include a sentence outlining why you've given yourself, your team or a team member a 'thumbs up' today, along with the hashtag #TeamMC.
E.g. it could be some great customer feedback you've had for going above and beyond. Or something you've done to help the community that they're proud of. Or just that the team is Okay.
To note: please take care of social distancing for pictures together as we are also following guidelines on this and hope you are too!
You can share these either on your group's Facebook groups or by simply sending it to thumbsup@midcounties.coop
We will be posting a daily Thumbs Up montage on the homepage of Colleagues Connect, so remember to log on and be reminded of what makes our Society so great – your colleagues. You can also take the chance to give them a pat on the back yourself by commenting on the post.
Have a look at the videos below from our Bicton Heath Food store and hear how Park Hall Food store is working with Park Hall Area Neighbourhood Watch for Home Delivery volunteering support!
Don't forget if you have any great pictures or videos post them on your Facebook group or email them to us at thumbsup@midcounties.coop
If you would not like your information shown above, please let us know at Communications@midcounties.coop stating your full name and we will remove as soon as we can.